Dear Zimbra Friends & Colleagues,
Today's post is brought to you by Carlos Pineda, Senior Sales Engineer at Synacor and Zimbra extraordinaire.
Are you or some of your end users using the Outlook client but running Zimbra on your mail servers? Then you probably know about ZCO – the Zimbra Connector for Outlook – that provides realtime sync of email messages, folders, tags, address books, tasks, and calendaring between Outlook and Zimbra.
If you haven't heard of ZCO, check it out!
ZCO users can create email filters or rules (for incoming and/or existing emails) in Outlook or using the Tools > Zimbra Server Rules option. We recommend setting Zimbra Server rules because:
Zimbra rules are executed by the server even when Outlook is not running.
ZCO disables Outlook rules by default.
For more details about how to create, edit, delete or run email rules, please visit https://zimbra.github.io/zm-windows-comp/latest/ZCS_Connector_For_Outlook_User_Guide.html#_rules
An email rule is one or more conditions that result in one or more actions. For example, you can set a rule where all emails from my_manager@zimbra.com are moved into the "My Manager" folder. Here are some more actions:
Delete a message
Forward a message
Assign an email to a category
Flag a message
Mark a message as read
New in Zimbra 8.8.15 P5 and P6
Good news for ZCO users! We added some very helpful new conditions, actions and exceptions to the Rules dialog box with Zimbra 8.8.15 P5 and P6.
New Conditions:
where my name is in the To or Cc
where my name is in the Cc
where my name is not in the To box
marked as importance
New Actions:
keep in the original folder
delete it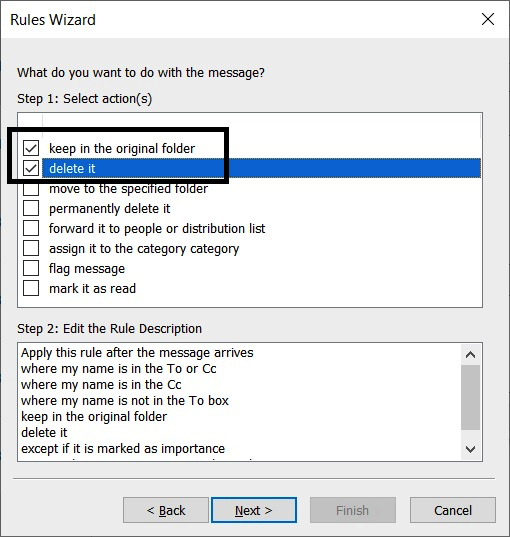 New Exceptions:
except if my name is in the To or Cc
except if my name is in the Cc
except where my name is not in the To box
except if it is marked as importance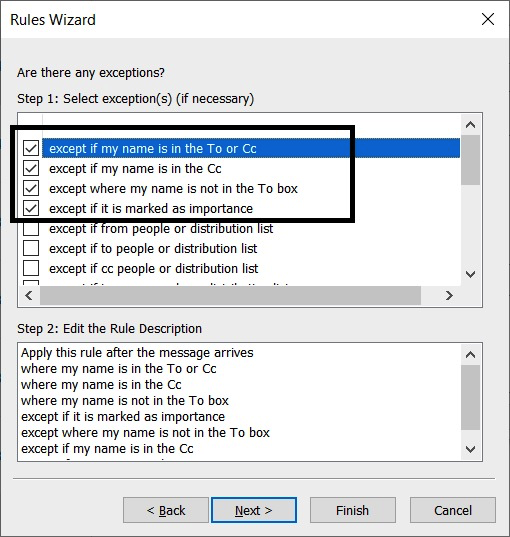 If you are a ZCO user and don't see these new options, check with your email administrator. They may need to upgrade to the newest Zimbra patch.
Thanks,
Your Zimbra Friends & Colleagues