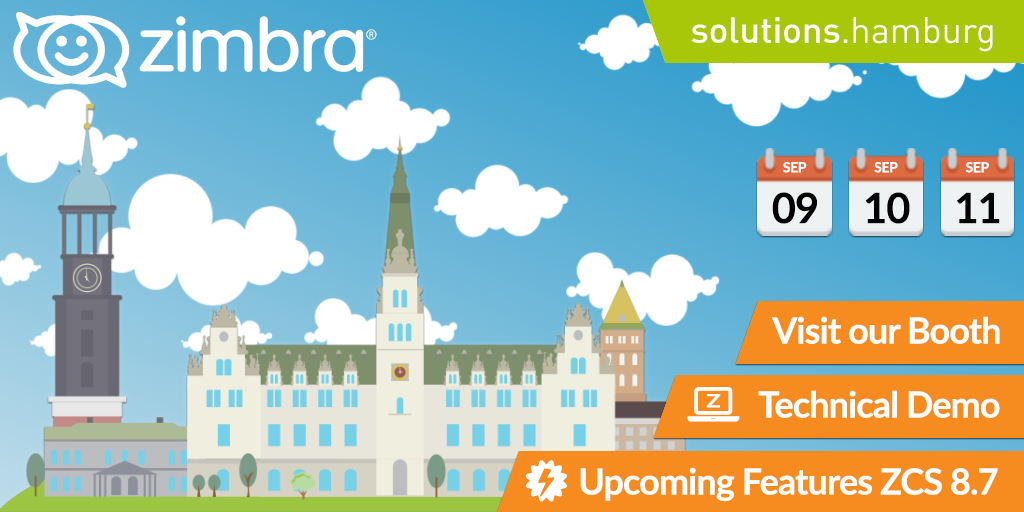 Zimbra will be sponsoring Solutions Hamburg 2015 from September 9-11 in Hamburg, Germany.
Attendees will hear about the latest news from the leading software and IT infrastructure vendors in Europe.
Stop by our booth for a Technical Demo of our product and learn about upcoming features in Zimbra Collaboration 8.7.
Solutions.hamburg – Experience digitization
In fascinating presentations, workshops and discussions solutions.hamburg depicts the entire ecosystem in the area of ​​digitization, business and IT, because the digital transformation concerns as a global topic to each individual company. A successful digital transformation requires the perfect interaction of real IT professionals with specialized expertise. Therefore meet with us in addition to technical and industry conferences, to discuss and learn new perspectives and solutions with each other.

Almost 300 speakers show exciting lectures, workshops and discussions, which means the digital transformation for your industry, your company and your department. The technological development and networking to revolutionize nearly every day established processes and business models.
Therefore, the future brings solutions.hamburg conscious company along with its departmental representatives and decision-makers with creative thinkers and true experts from the IT scene, universities, research institutions, founders and the City of Hamburg to open up new perspectives. Find here business-ready solutions for the value of the future and meet the people who make them possible.