Hello Zimbra Friends, Customer & Partners,
Zimbra can be used with SAML Single Sign-On (SSO). When using SAML, an Identity Provider (IdP) handles user authentication, so users can open their applications without logging on to each one separately. In SAML, these applications are called Service Providers (SP). Zimbra is a SAML SP. You can use a SAML Identity Provider in the Cloud or set-up an on premise one, for example SimpleSAMLphp 2.0.
This video shows an example Single Sign-On solution for your Zimbra users. First is a login page that you design, and next is a page that shows your users all available applications.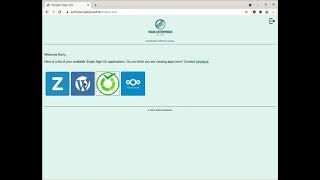 The Zimbra SAML Guide shows you how to set-up SimpleSAMLphp to act as SAML IdP. You will see how to configure the IdP to use Zimbra's LDAP to validate the users, adding full SAML capabilities to Zimbra. This SAML solution uses the Zimbra LDAP for validating accounts and passwords.
Thanks,
Your Zimbra Team