Hello Zimbra Customers, Partners and Friends,
We all know about spam, viruses, malware and other threats to email security. We teach our Zimbra users how to best protect themselves from these threats. Our Zimbra admins optimize anti-spam and anti-virus tools. The Zimbra Product Team builds in as much AS/AV protection as possible.
But the threats keep evolving, changing, becoming more sophisticated. How can we keep our email data safe?
The Zimbra Team created an Email Threat Checklist that you can share with your Zimbra users. Your users should already know most of this info, but a reminder is always good.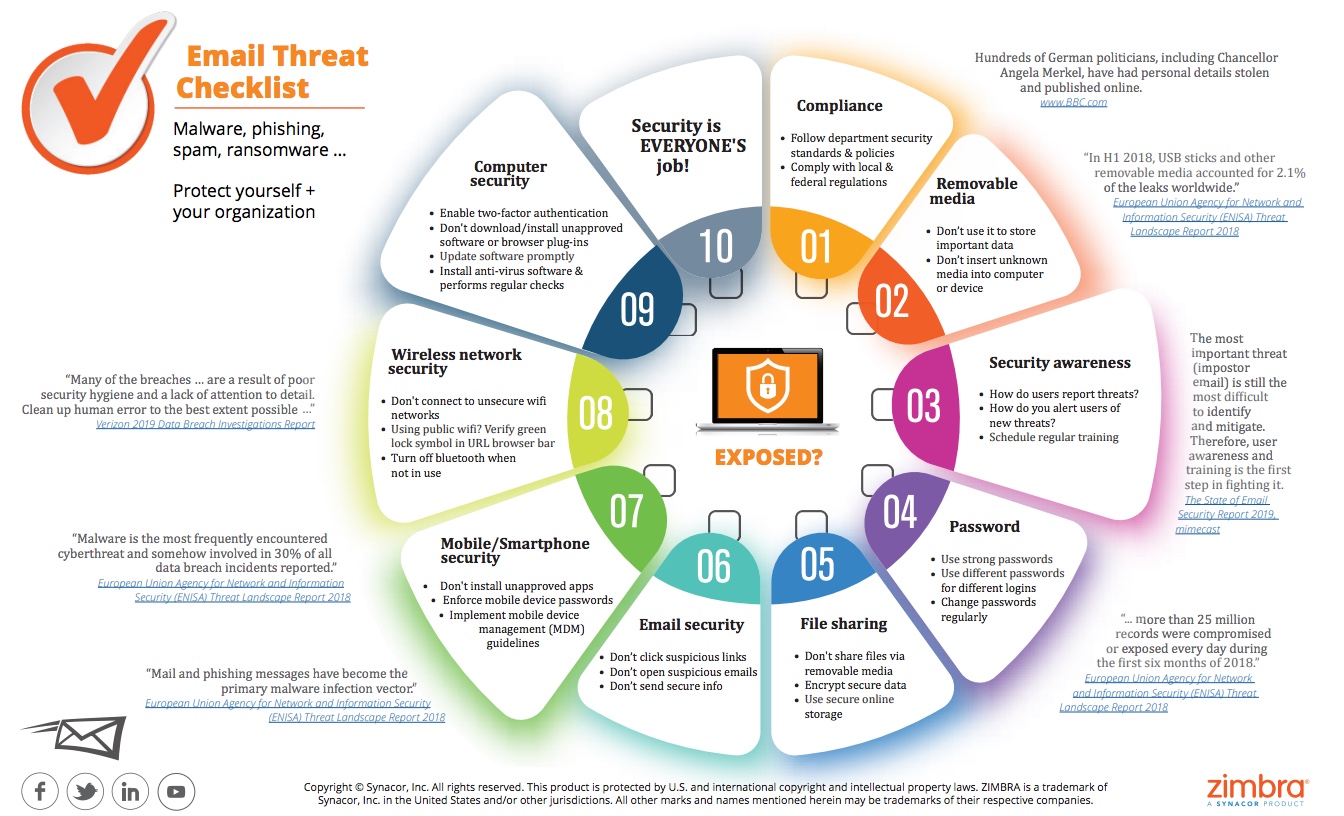 To take further precautions against spam and viruses, Zimbra Partner BLS Consulting has a new Zimbra integration you may be interested in. Janusmail is a Zimbra integration that improves anti-spam and anti-virus controls and allows users to filter email after it's delivered. Janusmail also has a Zimlet for email admins.
Introducing Janusmail
Janusmail is an advanced anti-spam and anti-virus system that protects your company from the latest email threats and problems that slow down productivity. The Janusmail email security system is designed specifically for Service Providers. Here are some interesting statistics …
Janusmail has a spam catch rate of over 99.9%.
Their branded, automatic whitelist system guarantees a false positive rate close to zero (under 0.0001%).
It's a self-learning system – users can signal spam emails that passed filters, and Janusmail will "learn" to better identify spam. This extends to newsletters. Only whitelisted newsletters make it through Janusmail's filters.
Janusmail's Admin Experience
Janusmail has a simple and intuitive management console where admins can:
Obtain detailed reports on email with the path, reason for a block and successful delivery info
Request unblocking or whitelisting of senders
Manage user emails and independently download detailed email logs
Set Delayed Mail to postpone checks for dubious emails, so antivirus and blacklists can update themselves
Janusmail's Zimbra Integration
The Zimbra Advanced Module provides:
Dashboard access in Zimbra Webmail
Post delivery threat removal
Zimbra Log integration
Email removal from inbox based on administrative rules
Violated mailboxes identification and block
For more information about Janusmail, including more technical features, visit https://www.janusmail.eu/en/
Thanks from …
Your Zimbra Team