Hello Zimbra Partners, Customers and Friends,
Today's Zimbra BSP video case study comes from Mr. Naisiew Yeak, Director of MailHappen in Malaysia.
"Since we started using Zimbra, we've never looked away! Zimbra is the best collaboration platform we've ever used," said Naisiew Yeak, Director of MailHappen.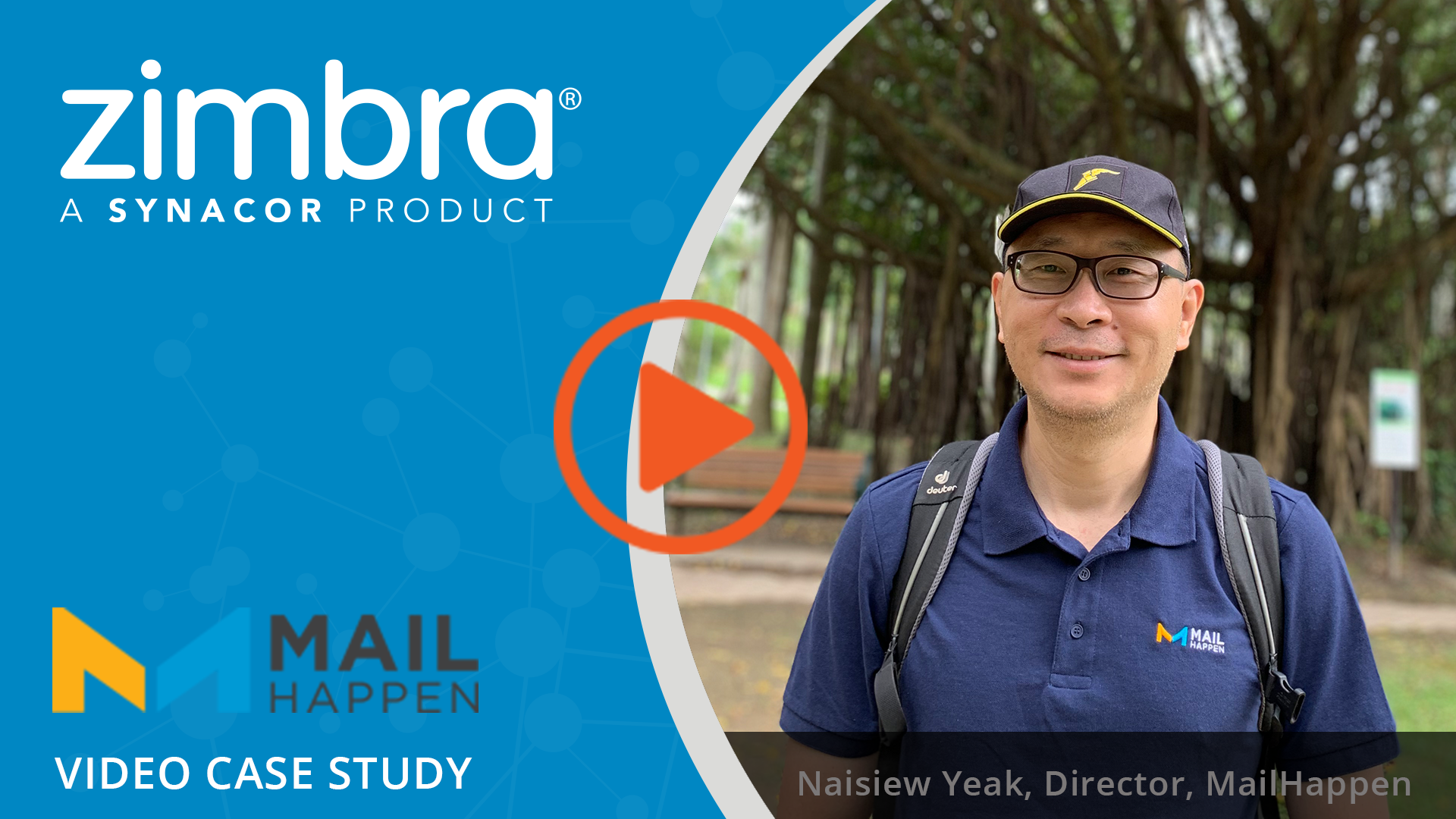 MailHappen started as an Internet Solutions company in 2000. They discovered Zimbra in 2007 and have focused on email ever since.
Why Does Mr. Yeak love Zimbra?
"I love Zimbra because it's user friendly, very reliable and comes with a lot of features like Zimbra Connector for Outlook and EWS. For a BSP, these are good selling points."
His favorite Zimbra features are Zimlets and APIs, so he can customize Zimbra's look and feel and functionality. Customization means MailHappen can integrate Zimbra with a customer's existing platform and apps, something that other email and collaboration platforms can't do.
Why Zimbra?
As a BSP, we focus on Zimbra's stable platform, security and backup. "Zimbra is very, very stable," said Mr. Yeak. MailHappen has done deployments of over 100 thousand mailboxes, and these are easily managed by their team. "Zimbra's foundation is Linux OS, which is very stable. So are the open source components Zimbra uses."
MailHappen's customers range from small businesses to enterprises. Customers choose Zimbra because it:
Fulfills open source requirement
Is user friendly
Offers flexible cost options
Integrates well into existing environments with Zimlet customizations
MailHappen is an email and collaboration BSP supporting any size business. They host 70+ domains and 1,000+ mailboxes and support customers using Zimbra on-premises. They provide:
Professional services … consulting, design, deployment, integrations, migrations
Support
Training
Hosted email
To become a Zimbra Partner, visit www.zimbra.com/partners/becom…​
Stay tuned for the next Zimbra BSP Video Case Study … coming to you in a different language.
Thanks,
Your Zimbra Team