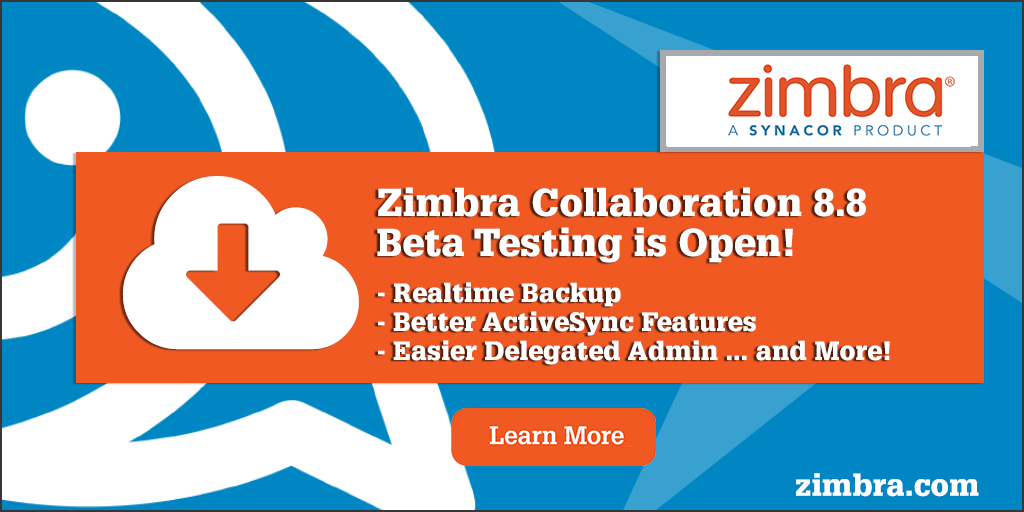 We are proud to invite you to
Zimbra Collaboration 8.8 Beta Testing
Zimbra Collaboration 8.8 is almost here, but first, we want to hear from YOU – our Customers, Partners and Open Source community.
Download today, before anyone else. Use this special, dedicated Forum to ask or answer questions about the Zimbra Collaboration 8.8 Beta.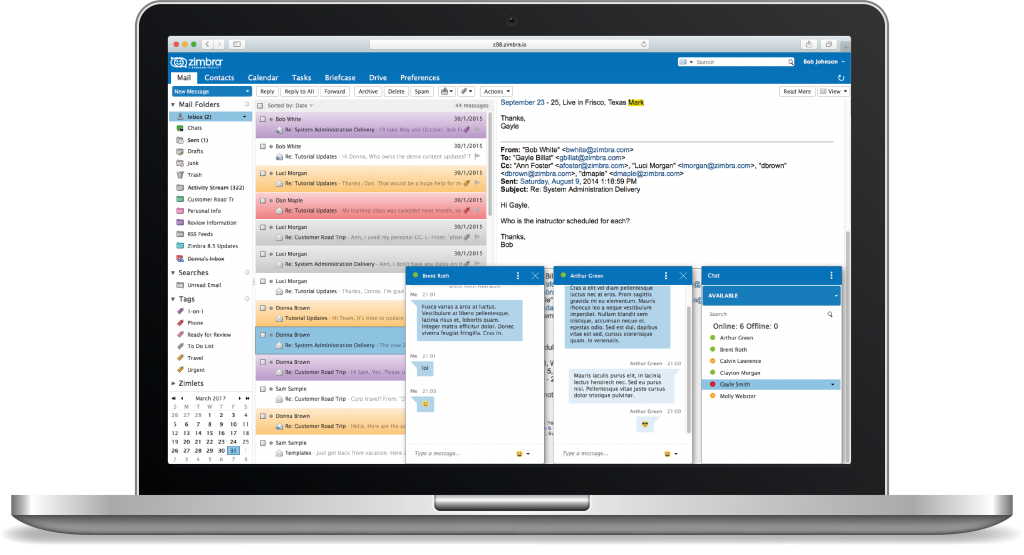 We are looking for Product Feedback on:
UI
Performance
Installation
Upgrade
New features
A Few Rules …
All bugs will be reported through bugzilla with the 8.8 keyword 8_8_0_Beta_1
No Zimbra Support will be provided for the Zimbra Collaboration 8.8 Beta testing.
Network Edition testers must activate using a valid license which can be your production license.  If you have any issues with activating your server, please open a Support Ticket for assistance. (Note: Support will only help activate the license, 8.8 beta testing is not supported by the Support team)
What's new in Zimbra Collaboration 8.8 Beta?
Zimbra 8.8 marks the beginning of a whole new era with the introduction of peer-to-peer Zimbra Chat and Zimbra Drive into all versions of Zimbra and a complete overhaul of the major business-ready components of Zimbra Network Edition.
New Realtime Backup with 6 restore options: No data loss during backup, and new de-duplication technology results in up to 50% saving on storage space for backups.
Enhanced Mobile synchronization: Now users can sync Zimbra shared items on mobile devices.
New HSM and volume management options: Reduce your current Zimbra storage by up to 50% for an enormous cost savings.
Improved, easy-to-use Delegated Admin: Create a delegated admin in minutes, and enjoy increased reporting functionality and more CLI commands.
Zimbra Drive: Improves file sync and share with the addition of an ownCloud/nextCloud server.
Zimbra Chat: Peer-to-peer chat, buddy management and presence built-into Zimbra.
Reconfigured IMAP service: Improves email reliability and SLAs by deploying IMAP as a separate service.
Expanded SIEVE RFC compliance: Provides email admins with more powerful email filtering.
New Ephemeral Data Store: Increases read-write performance and server reliability by storing data store as ephemeral data in SSDB.
Please DO NOT UPGRADE your Production Environments! This Beta release is for Testing Purposes only. Zimbra will NOT provide Technical Support for those who upgrade a live Zimbra Infrastructure.