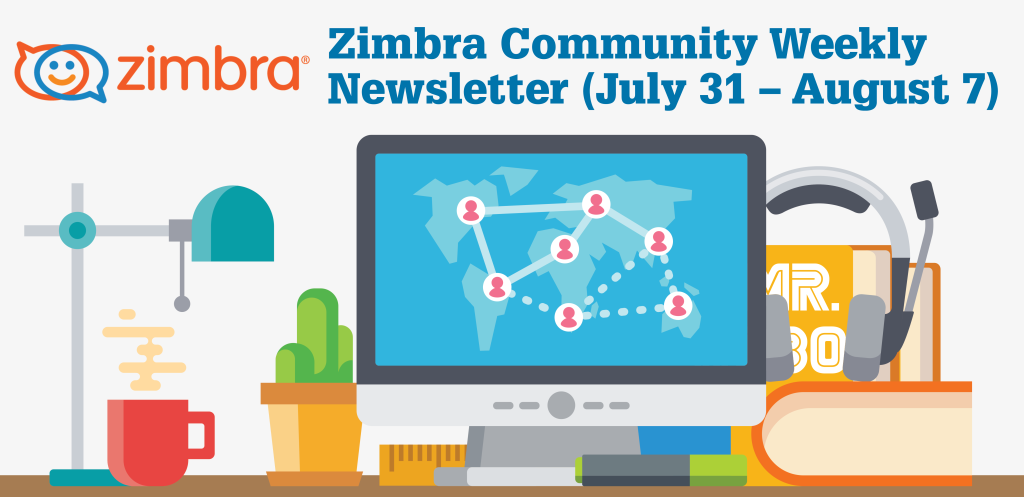 We are happy to announce our Weekly Newsletter Blog post about the Zimbra Community, in this section you will find news about new Zimlets, Hot Forums Topics, some Hot IRC discussions, and much more.
Expand your Zimbra Collaboration with this new Zimlets
In the Zimlets section we have some really good and recent zimlets, and we are sure they will improve your Zimbra Experience.
The Zimlet provides an unsubscribe button in your inbox to make it easier to unsubscribe from newsletters, social media notifications and other promotional emails.
This will help you to keep your inbox clean! Please note that unsubscribing does not work for spam emails.
The unsubscribe button in Zimbra is based on the List-Unsubscribe header as defined by http://www.list-unsubscribe.com/ or RFC 2369
This Zimlet alerts you when your forget to attach the attachment when sending an email message.
The Zimlet will search for keywords in your message (for example, "attach" or "attachment"). And if the keywords exist in your outgoing message, the Zimlet will confirm that at least one attachment exists before sending. If no attachments exist, an alert dialog is presented.
This is a fork from: https://github.com/Zimbra-Community/adopted/tree/master/com_zimbra_attachmentalert
This version allows you to optionally configure the keywords to look for in your email message. This way you can write emails in various languages and still be able to get the attachment alert.
Hot Topics in the Community Forums
Community Blog posts around the world
Please note that this section may include Blog posts to a different languages content.
Do you have a Blog about Zimbra? Comment with your URL
Community IRC Chat
Join to the IRC Chat with nearly others 100 members:
Hot and updated Tech Center Articles
The Tech Center is alive, and a proof of it is the modifications in the articles, the new ones, etc. Here you can find a brief overview:
Next Zimbra Collaboration System Administration Training Courses
Don't miss the chance to obtain your Zimbra Collaboration System Administration Certification, we have some Courses this month. We are looking forward to provide to you all the needed Knowledge about Zimbra Collaboration.
| Delivered By | Location | Language | Date | |
| --- | --- | --- | --- | --- |
| Inova | Sao Paulo, Brazil | Portugese | August 12-14, 2015 | Enroll Now |
| Ingram Micro Hong Kong | Hong Kong | Cantonese or English | August 26-28, 2015 | Enroll Now |