First of all, a little history …
When Zimbra Collaboration Server 7.2.7 was released back in early 2012, VMware announced that Zimbra Desktop would EOL in a future release of Zimbra.
In July of 2013, Telligent acquired Zimbra from VMware. One of the first things we did was start talking to our customers and we quickly found out about this great email client: Zimbra Desktop. In January of this year, I announced at the Paris Zimbra community meeting that we were re-investing in Zimbra Desktop and that it would continue to be a product offered by Zimbra.
OK, so what is Zimbra Desktop?
Zimbra Desktop is a productivity application that you can install on Windows, Mac or Linux. For people familiar with tools such as Microsoft Outlook, you'll feel immediately comfortable with Zimbra Desktop: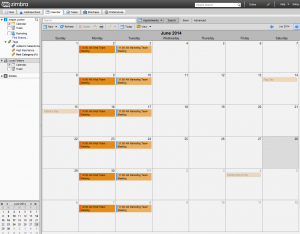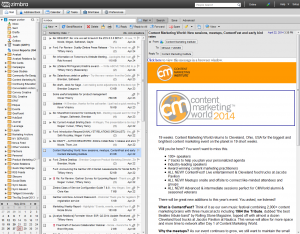 Zimbra Desktop works both online and offline and does not require Zimbra Collaboration on the back-end – which means you can connect to Microsoft Exchange, Google Gmail and other mail systems through Zimbra Desktop.
Zimbra Desktop also supports the Zimbra 'Zimlet' extensibility modules. Zimlets let you extend Zimbra Desktop's user experience in new and interesting ways.
What are we announcing?
Today, we announced the availability of Zimbra Desktop 7.2.5:
Zimbra Desktop 7.2.5 is a small release, but we have big plans! Right now we're just getting the engineering trains running again (so to speak). We've put together some release notes so you can see what enhancements and bug fixes we made (besides putting the awesome new Zimbra logo in there).
So why are we re-investing in Zimbra Desktop?
Simple, email clients have seen no innovation in the past 20 years. For customers already running the Zimbra Collaboration back-end, we're going to add some unique enhancements through Zimbra Desktop (as well as our other user experiences). Today your choices are limited – there are some great browser-based email clients – we like to count ours as one of those – but if you want a client that runs on your computer, there really aren't a whole lot of choices. With our background in building social user experiences, we believe there are some interesting opportunities to reinvent some of the common user experiences around collaboration too.
So, Zimbra Desktop 7.2.5 is just the start and a brand new user experience for Zimbra Desktop is currently in development, with a planned release date for later this year.