Activity Stream Filter Tip
Did you know that in Zimbra 8.x and later, there is an Activity Stream filter? The Activity Stream filter delivers email messages that are less important, such as newsletters and social update communications, into the Activity Stream folder instead of your Inbox. This keeps your Inbox less cluttered.
To activate Activity Stream:
1. Click the gear icon in the Folders area of the navigation pane, and select Activity Stream.

2. Select Enable moving messages into Activity Stream.
3. Select the type of messages to move. You can move the following type of messages:
•    Messages where your address is not in the To or in the To or Cc field
•    Messages from people not in your address book
•    Messages sent to a distribution list that you are a member of
•    Commercial mass marketing and bulk mail messages
4. Click Save.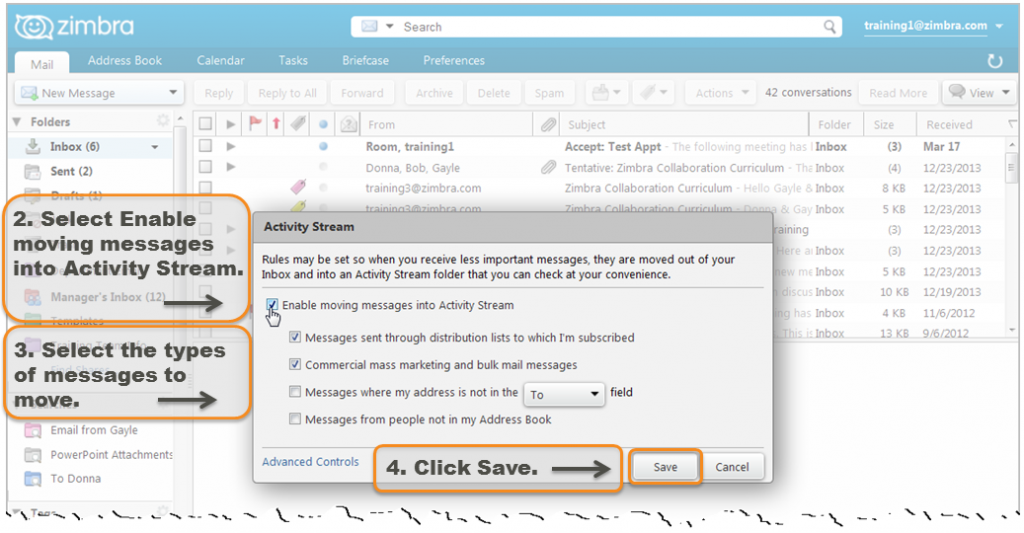 The Activity Stream folder is displayed. All email meeting the filter criteria will be delivered into this folder instead of your Inbox.