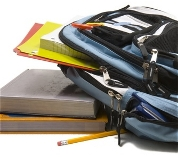 It's September, which signals the time students will be returning to school. At Zimbra, this means continuing our work with the more than 500 institutions that have deployed the Zimbra Collaboration Suite Network Edition worldwide. We are thrilled to help educators and students alike with their communication needs in over 33 countries, including institutions such as Kansas State, Texas A & M, Stanford, and the University of Pennsylvania.
With "back-to-school" in the air, we thought it was an appropriate time to check in on some of our education customers. Turns out, Zimbra's rich calendaring and collaboration features, compatibility with other email clients and campus systems, open technologies, easy branding, administrator-friendly architecture, in both hosted and on-premise deployment options aren't the only reasons why Zimbra continues to be the #1 choice for education. Today, schools are growing contributors to our highly regarded Zimlet program. With customized mash-ups, more and more educational institutions at all levels are taking advantage of Zimbra's open source roots and community, by easily integrating ZCS with other online tools that students and faculty interact with daily.
A few universities have recently shared with us some examples of useful implementations:
Wayne State University
Message Authenticity Zimlet: Helps the student confirm the authenticity of a message sent by Wayne administration. Users may choose alternative delivery methods and rate the message's importance relevance to them in order to provide feedback for future news updates.
AccessID Zimlet: This hover-over Zimlet provides users with a quick look into the university directory, making sense of arcane user ID codes.
Anti-Phishing Zimlet: Beyond just marking something as spam, this Zimlet allows users to report an email as a serious phishing attempt into an automatic tickiting system, so that Wayne administrators can research if other users have inadvertently provided personal information when they shouldn't, and then report back to the campus about any complaint to be aware of.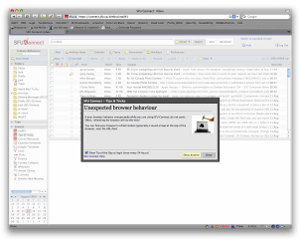 University of Wisconsin-Milwaukee (UWM)
Subscription Center Zimlet: This Zimlet acts as the single source for consolidated public calendar information enabling users to search, browse, and subscribe to assorted campus and community calendars.
White Pages Zimlet: This Zimlet integrates an existing directory server to provide various phone number, office location, and home address information of students, faculty, and staff, based on their existing privacy settings.
Help Zimlet: Gives users quick access to custom tailored documentation for the campus community as well as video screencasts demonstrating how to use and configure various features of the Zimbra web interface.
Simon Fraser University
Course Resources/mySFU Zimlet: Content put out by professors for a specific class, and also connects to details on course books, library records, campus news, and more.
Tips & Tricks Zimlet: A customized interface with a daily tidbit of useful info for getting the most out of the Zimbra experience as well as computing accross campus.
Broadcast Alert Zimlet: Gets the word out to anyone with Zimbra currently open or upon next login. With students on the system so often to get work done, it's a great way to send a critical notice.
Stay tuned and we will continue the series with additional screenshots plus more in depth Q&A with a few Zimbra educational customers.