Few things get our community excited like a major release version of the Zimbra Collaboration Suite. Today marks availability of the first GnR preview: ZCS 6.0 Beta 1 Open Source Edition. Admins and developers can find it over on the downloads page, for the less technically inclined we'll also have a new hosted demo up shortly.
Some feature highlights:

» A new horizontal 'three panel' view with the message on the right.
» There are now tabs for individual messages as well as the compose page.
» Document & Briefcase access from the standard HTML client.
» Share management & discovery UI that lets you see all shares (email, contacts, calendar, tasks, docs, etc) at a glance. Join a distribution list late? Find all existing shares with the group.
» The ability to run existing email filters over the contents of a folder.


» Did you get it? Know instantly, as read receipts have been implemented in the web-client.
» Improved calendar resource auto-accept/decline conflict handling.
» Calendar fisheye view – previously in Zimbra Desktop, now in ZCS.

» Auto-updating RSS feeds & ICS event URLs on a configurable schedule.
» Per-user blacklists & whitelists are exposed in the revamped mail preferences area.
» 'Published' Zimlets management for end users in options. (Zimlets themselves can now define a new application or preferences tab.)
» Mobile web-client overhauls: Including a special mini logon page, better appointment creation, and six new variants based on device type and connection speed.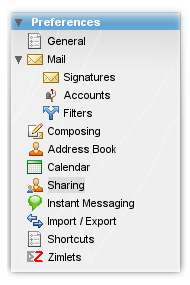 » Auto-complete from shared address books; and recently used contacts are presented first.
» Configurable spell check on every send.
» On-behalf-of aka sendAs option on compose in shared folders/relationship accounts.
» Appointment list view & refined print layouts.
» Full featured detached message view for the advanced AJAX client.
» Attach files during mail compose directly from the briefcase; in the briefcase UI you can now send as attachments or links.
» Pressure-based scrolling of folder and message list (within the same page).
» OpenLDAP now allows for some on-the-fly configuration changes with zmlocalconfig via a cn=config backend instead of slapd.conf text files for preservation across upgrades.
» GALsync accounts via datasource contact folders with sorting, browsing, and enhanced client usability.
» MySQL as the logger DB has been removed, in favor of more zmstat service implementation mixed with SQLite & RRD for the new logger service.
» Role based delegated permissions on every individual feature. Now you can create distribution list managers, while HSP's can give someone permission to manage multiple domains from one login. (The network edition will include easy admin console configuration; open source edition may contain some code.)

---
There are just too many enhancements to list here so we could only cover a few; check out the beta on a test server, then let us know what you think below or over in the Community Forums. Release notes are here. (Note: We advise against upgrading if using the Posix/Samba or Disclaimer add-ons, the process will be documented shortly.) This is the first release of several in our testing cycle; general availability of ZCS 6.0 is targeted for the summer.