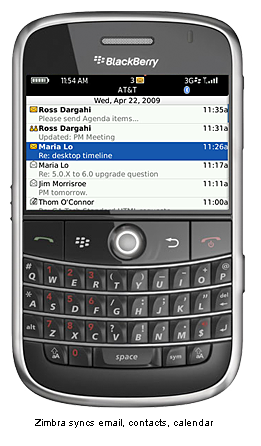 The Zimbra Connector for BlackBerry Enterprise Server (ZCB) beta period is now closed; starting today ZCB is generally available (GA)!
Zimbra Network Edition (and trial) customers who have Zimbra Mobile may use ZCB free of charge, and it is fully supported by the Zimbra team.
This version of ZCB focuses on features and functionality requested by our largest BlackBerry constituency – small to medium businesses looking to migrate from their existing collaboration platforms, hence the official name: Zimbra Connector for BlackBerry Enterprise Server Small Business Edition. You may use it with up to 50 devices running on BlackBerry Professional or BlackBerry Enterprise Server (BES) for Exchange.
The addition of ZCB to Zimbra Collaboration Suite is significant because it is the only next-generation, open source email and collaboration platform to offer native integration with BES (and joins existing providers Microsoft, IBM and Novell). Until now, alternative platforms required 3rd party outsourced providers to channel BES, which meant less control and potentially higher costs for organizations.
With ZCB GA plus ZCS 6.0 (coming soon) providing mobile enhancements like Task sync, remote device wipe and many new features for mass-market devices ActiveSync devices, including the iPhone; the Zimbra Mobile family has more well-rounded mobility for a broader range of users and devices than ever before. Providing features key to collaboration: Such as full access to your global directory list, robust searching, support for multi-node ZCS configurations in addition to the native over-the-air synchronization of mail, calendars, and contacts. Moving forward, we will also look to further expand our ZCB offering to support Nginx proxy and larger organizations – one of the fastest growing markets for Zimbra.
We are very proud to have achieved this milestone and want to thank everyone for their testing and support throughout the process!
Network Edition users may register and download the ZCB GA here.