Do you check your emails when you are traveling? Do you have intermittent internet access?
Zimbra Desktop provides a seamless way to access your Zimbra content when connectivity is limited. It's an app that you install on your computer (Windows or Mac) so you can read your emails, reply or forward an email, compose new ones, and check your calendar. Zimbra syncs automatically and delivers any new email in/out of your mailbox as soon as your device goes online.
Zimbra Desktop has all the same functionality as Zimbra's Modern UI.
Running out of storage quota on your mailbox?
You may free up space on your mailbox by moving some of the emails to the local storage. The emails moved to local storage will be accessible via the Zimbra Desktop app.
Archiving regularly helps free space on your mail servers.
Can I archive my old emails automatically?
Yes, the Auto-Archive feature in Zimbra Desktop help you move old emails from the mail server storage to the Local Storage. This feature is set to auto-archive emails older than 30-days, but you can adjust this to any time you want.
How do I enable the Auto-Archive feature?
Follow these steps to enable it:
Go to Settings.
In General → Storage, select the Enable
By default, mails older than 30 days will be archived. If you need to change the days, update Auto-archive emails older than textbox field.
Click Save.
Zimbra Desktop App needs to be restarted to start the archiving of messages.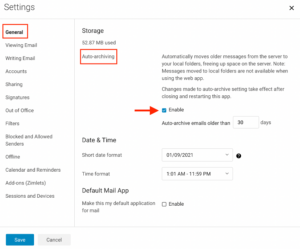 How do I know if my emails are being auto-archived?
Once the Auto-Archive feature is enabled, Zimbra Desktop App must be restarted to start the auto-archiving process. Depending upon the data to be archived, the process may take some time. The mails matching the auto-archive criteria will be moved from Inbox to Local Folders.
Can I send emails securely with Zimbra Desktop?
Yes, Zimbra Desktop app supports S/MIME functionality. You can send Signed or Signed and Encrypted emails to other users.
How to change the Zimbra Server URL in Zimbra Desktop App
When the Zimbra Desktop App is opened for the first time, user will have to provide the Zimbra Server URL to connect to the Zimbra server.
If the user needs to change the Zimbra Server URL in the future, user must change it in the following file:
Windows : C:\Users\[USER-NAME]\AppData\Roaming\@zimbra\electron-app\server_prefs.json
Mac : /Users/[USER-NAME]/Library/Application Support/@zimbra/electron-app/server_prefs.json