Hello Zimbra Partners, Customers & Friends,
We are excited to bring you a whole new look at Zimbra … video case studies from Zimbra BSPs from around the world! Today's is from Jason Frisch, CEO of Cloudmatika in Indonesia. Mr. Frisch says …
"What's not to love about Zimbra? It's the de facto standard of hosted email the Indonesian market."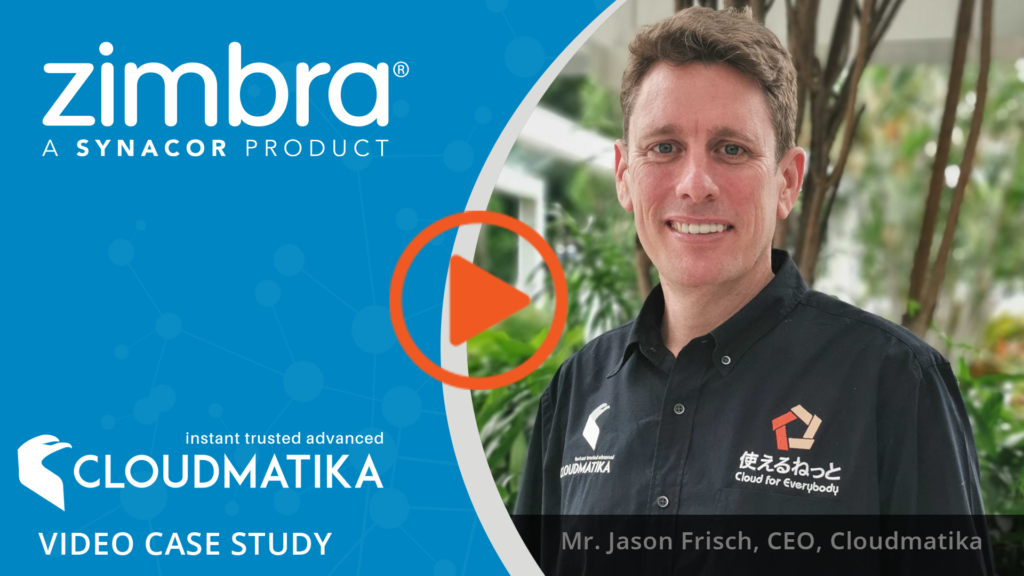 What does Cloudmatika love about Zimbra?
Anti-spam integrations. "It's very, very accurate," said Mr. Frisch.
Multi-server architecture. There is no single point of failure. "We have 100% uptime. Our email is always working."
Easy to deploy. "There is not a lot of technical knowledge required to install and configure the platform."
Multi-domain support. Cloudmatika doesn't need a dedicated installation for each customer. They use a shared platform internally as well. "We have multiple brands, and separating them on the Zimbra platform is simple. This lowers our running costs."
Why do their customers love Zimbra?
Reputation. "It's the de facto standard of hosted email in the Indonesian market in particular."
Data sovereignty. "We provide an in-country, locally hosted solution. Most major email players don't offer this."
Affordability. "Costs signi cantly less per seat than other solutions."
Ease of use. "It's very intuitive. Once they're in, they know everything. That saves us money because we don't have to provide a lot of training on how to use the system. That can be quite dif cult on other systems."
High level of security and 99.99% uptime. "Zimbra provides peace of mind."
Do you want to become a Zimbra BSP? Click here for more information.
Thanks,
Your Zimbra Team