Zimbra is honored to be named a Top Player in The Radicati Group's 2017 Messaging Platforms for Service Providers Market Quadrant
Today the Radicati Group, a leading market research firm, issued the 2017 Messaging Platforms for Service Providers Market Quadrant.
What is the Radicati Market Quadrant?
The Radicati Market Quadrant provides a competitive view of key players in the Messaging Platforms for Service Providers Market. The four quadrants are:
Top Players — Zimbra!
Trail Blazers
Mature Players
Specialists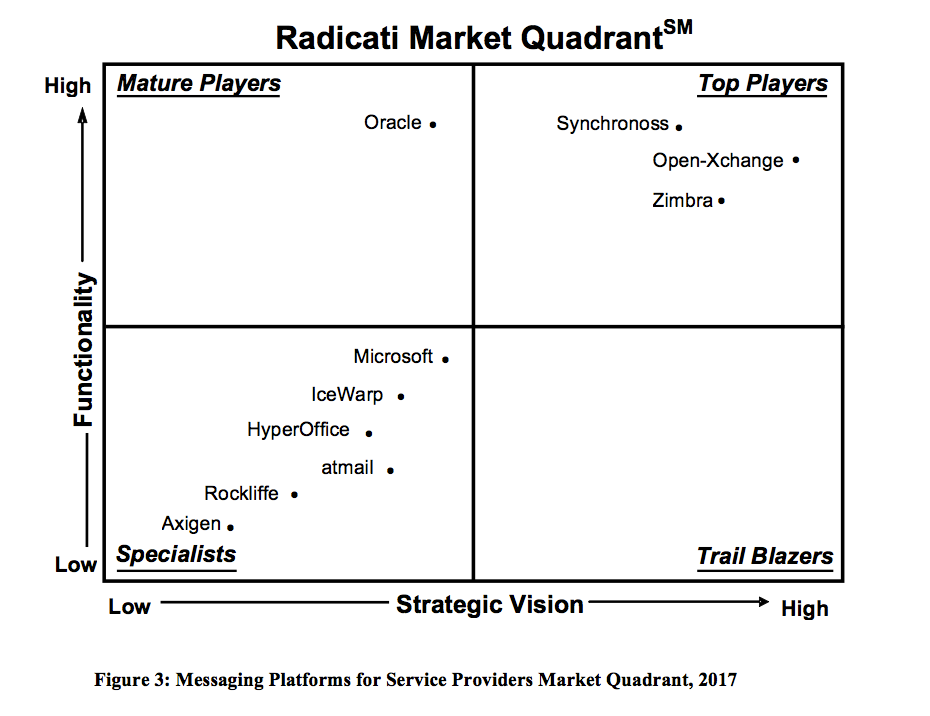 Radicati Market Quadrants are designed to illustrate how individual vendors fit within specific technology markets at any given point in time. Vendors are ranked according to installed base, market share, functionality and strategic vision.
Who Should Read the Report?
The report is intended for anyone who needs to make informed decisions about messaging platforms for the service providers market, including:
Investors
Organizations
Service providers
Vendors
From Sara Radicati of The Radicati Group
""Since it acquired Zimbra in 2015, Synacor has reinvigorated the platform," said Sara Radicati, The Radicati Group. "Leveraging the growth of APIs and the rise of the cloud, Synacor has designed Zimbra to be an open, extensible and secure platform. As a result, Zimbra is a good choice for service providers, enterprises, government agencies and regulated industries, such as finance and healthcare."
From Himesh Bhise, CEO of Synacor
"We are pleased that Zimbra was recognized as a market leader in email and collaboration," said Synacor CEO Himesh Bhise. "More than 100 service providers, 1,000 government organizations and 2,500 enterprises already trust our platform. We will continue to work with our customers and our community to innovate functionality, monetization and operations that enable a superior Zimbra experience."
What is Zimbra Collaboration Suite?
Zimbra Collaboration offers a full collaboration platform comprising: email, calendar, contacts, tasks, chat, and file sharing. It is built on top of popular Open Source projects such as Postfix, Jetty, Nginx and many others. It can be deployed on-premises, in the cloud or as a hybrid service. It is also offered as a Hosted Service by the Zimbra Business Solution Provider Network or as a Managed Service run by Synacor.
In March 2017, Zimbra released its open source code on github, increasing interaction, exchange of ideas and development by the open source community.