It's my pleasure to announce that today Zimbra 8 is now available to the public! With the release of Zimbra 8, VMware takes another step forward in providing users and IT organizations with a new way to collaborate in a post-PC world. Based on feedback from our customers, the goals of Zimbra 8 were to invest in unified communications, to deliver on the simplicity of the private and public cloud and to continue to make the user experience easier to access while on the go.  Zimbra 8 was a community effort and the VMware team thanks all of our customers and partners for their input and help over the last 2 years of planning and execution.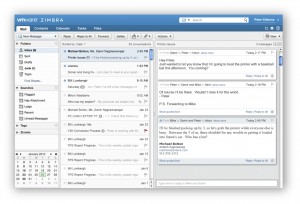 New to Zimbra 8.0, VMware has partnered with Cisco and Mitel to offer unified communications capabilities embedded within Zimbra. These deep integration capabilities allow users to connect their voice and message systems in a unified inbox, enabling Click2Call, voicemail, presence, and chat all from within the Zimbra Web app. Zimbra 8.0 features a user interface and the integration options to connect users to their cloud and enables a new way to work in the post-PC era.
Additionally, Zimbra 8.0 offers a software appliance in order to simplify the installation, management and operations of the entire software stack needed to run a collaboration platform.  The appliance is combined with the right level of enterprise IT security controls so that the service can be delivered as a private or public cloud solution.
Finally, for the end user Zimbra 8 is built to address a fundamental shift in the way people work and manage software.  The newest version of Zimbra is designed to make end users more efficient by connecting them with their data. User's are more mobile and more connected than they have ever been before.  By delivering the Zimbra experience to web, tablet and native clients, VMware is enabling organizations to embrace BYOD and cloud computing.
As part of VMware's end user strategy, Zimbra 8 is one more option from VMware to help IT move from legacy desktops solutions to centrally managed services in the cloud. Joining the recently announced VMware Horizon Suite and Socialcast, VMware offers compelling product offerings to create a  flexible corporate workspace in the cloud and enable mobile workers to connect from anywhere using any device.
Some of you might of already had the pleasure of experiencing these new and enhanced features through our Zimbra 8 Beta, but for everyone else, feel free to download the Zimbra 8 Appliance, Server, or Open Source today!
To stay up to date with product and industry news follow us on Twitter, Facebook, Google+, or LinkedIn.