Zimbra users will notice major changes to the user interface in Zimbra 8. What you cannot see is the 'behind the scenes' work that went into those changes.  Zimbra 8 reflects process and methodology changes that will improve the user experience not only in Zimbra 8 but all releases moving forward.
Usability doesn't just happen
Until now, the Zimbra user interface has been an organic byproduct of how features were added.  And as each new version added more great features, the user interface started to become cluttered.
Simplicity is hard to add incrementally. But starting with Zimbra 8, a dedicated user experience team has focused on the user experience. They've created a set of processes to improve usability for all new releases.
A usability baseline
The team started by creating a baseline for Zimbra 7 using formalized usability testing.  They looked for tasks where they could save people time or make things easier. For example, tasks that you perform infrequently – such as setting an out-of-office message when you go on vacation – can be difficult to remember how to do for those of us who don't take many vacations.  We've made this easier in Zimbra 8 by creating a dedicated out-of-office preference, reducing the number of steps to set up an out-of-office message.
Usability bugs
To elevate usability as an ongoing issue, we defined a class of Usability bugs in Bugzilla, which we will use to track usability issues through releases.  This is great for reaching out to the IT leads, but it still left the problem of communicating with those who don't use Bugzilla.
Reaching out to user communities
To get to those non-IT people, the UI team started actively seeking out power users. For example, the team interviewed executive assistants who schedule a lot of meetings and they found a way to streamline the scheduling of times and resources like conference rooms – that's another improvement in Zimbra 8.
Visual simplification
The UI team redesigned the interface to eliminate clutter, making it easy to find the most important functions.  They moved many secondary functions from buttons to menus.
Zimbra before…

Zimbra after…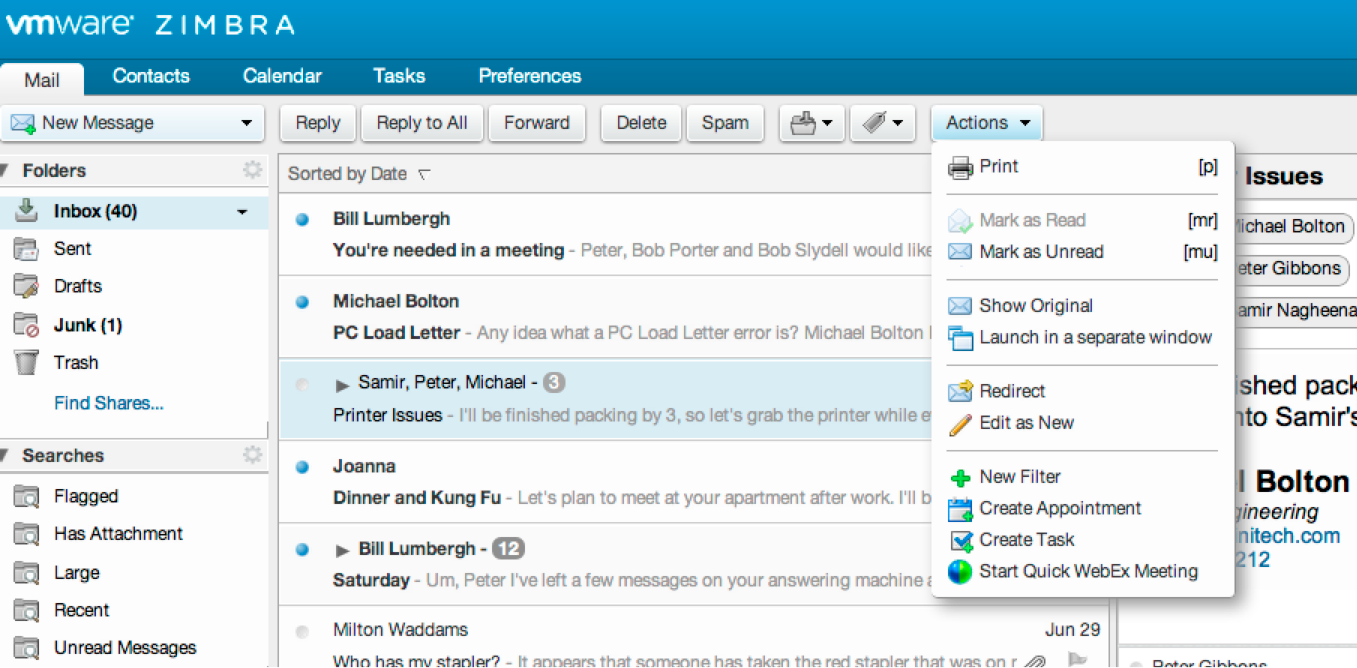 Beta testing and feedback
All of this work resulted in many UI changes in Zimbra 8. Some are big and affect everyone while others are smaller and important to a significant group of users.
The UI team continued to do usability testing right through the beta. Within VMware, where everyone uses Zimbra, we set up a social networking group where people can talk about and vote on the issues of most importance to them. And of course everyone can contribute and vote on UI bugs in Bugzilla.
Give us your feedback
If you're using Zimbra 8, use the Zimbra forum to let us know what you think about the changes to the user interface. We really are listening, and are already working on additional usability changes for Zimbra 9.
In future posts we'll talk about some of the major UI changes in Zimbra 8 in more detail.