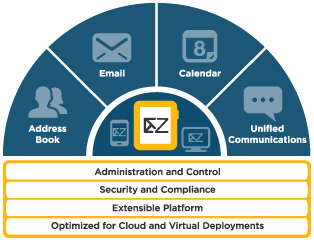 Today we're announcing Zimbra 8.0, the newest version of the messaging and collaboration suite built for the Post-PC era. Zimbra 8.0 includes simplified communications  – via our partnerships with Cisco and Mitel – improved cloud manageability and an easier to use personal cloud of email, address book and calendar.  Zimbra 8.0 follows the release of Zimbra 7.2 last quarter and expands our commitment to the collaboration market. The Beta version of Zimbra 8.0 is available for download today, and in it you'll find three key themes driving how we think about working in Zimbra today:
Simplified Communications
With Zimbra 8.0 we've introduced out of the box integrations with our Unified Communications partners Cisco and Mitel. We heard from our customers they want to be able to continue to use their existing UC solutions so we've included functionality like Click2Call, voicemail, presence, and chat all from within Zimbra's web client. Customers can quickly integrate their Cisco or Mitel UC solution or take advantage of Zimbra's open architecture to build a custom UC integration with the solution provider of their choice.
Zimbra 8.0 Unified Communications Integration Includes:
Out-of-the-box integration with Cisco and Mitel UC solutions
Presence and click to chat from hover over contact card of any address including Cisco Jabber
Click-to-Call any phone number with call routing to device or soft phone
Visual Voicemail with inline playback, management, and MWI status update
Call Record history of placed, received, and missed calls
SDK to extend or integrate other 3rd party UC solutions
Cisco WebEx integration for scheduling meetings
Managing ITaaS in the Cloud Era
Delivering consumer-like functionality in the enterprise is a challenge for every IT department. The cloud's ability to simplify management of key services has to be balanced by security, administrative controls and data management. With Zimbra 8.0, we've introduced a multi-node virtual software appliance that's built to scale while making implementation and maintenance as easy as possible. With the software appliance, you can have your email up and running in as little as ten minutes with minimal service disruptions when performing upgrades and maintenance.
Zimbra 8.0 also introduces a new administration experience to make managing your deployment easier than ever before. The browser-based admin panel gives email administrators simple yet powerful access to their systems just like any other cloud app – no matter if it's hosted in your private cloud or with one of our service provider partners.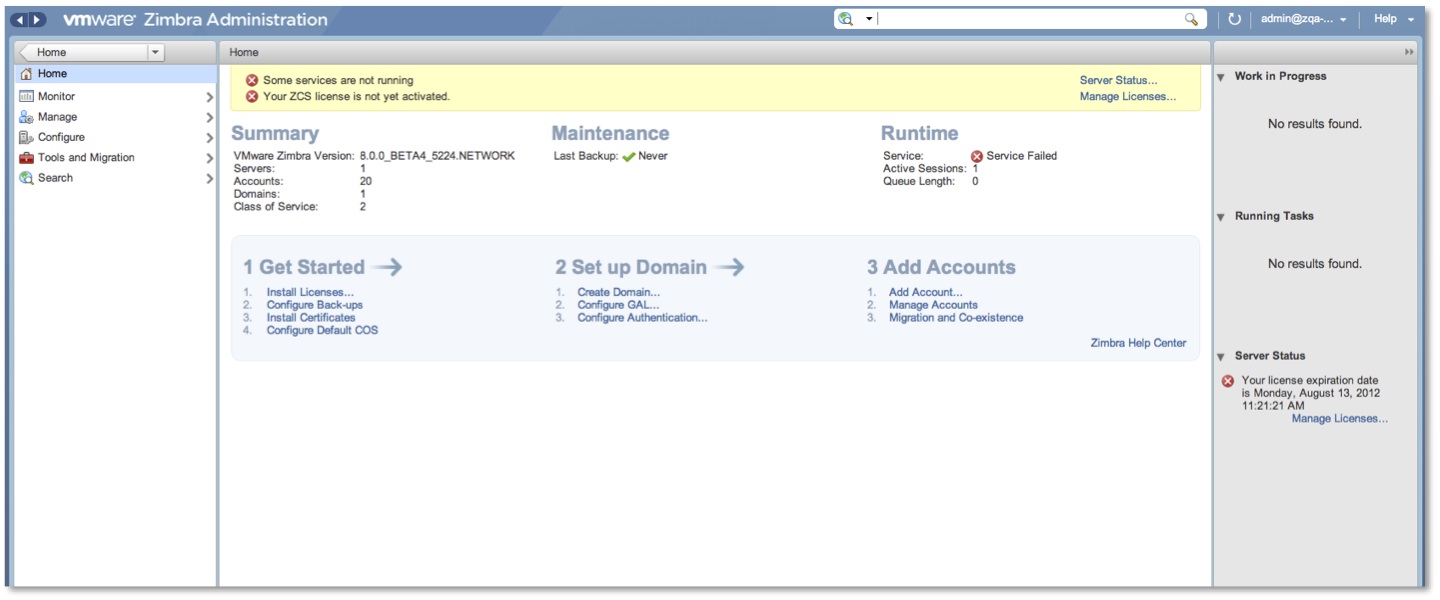 We've also included a new set of self-service features for end users to minimize demands on IT resources. Now end users can perform actions such as creating email distribution lists from within the web client and search and recover deleted items across Mail, Calendar, Contacts and Tasks based on IT-defined recovery and retention policies.
Connect to Your Personal Cloud
Serenity User Experience
For end users the Post-PC era means never being locked into a single device. Zimbra 8.0 introduces a rich, browser-based smarter inbox focused on a clean, "less is more" experience to help users access and manage their messages and information.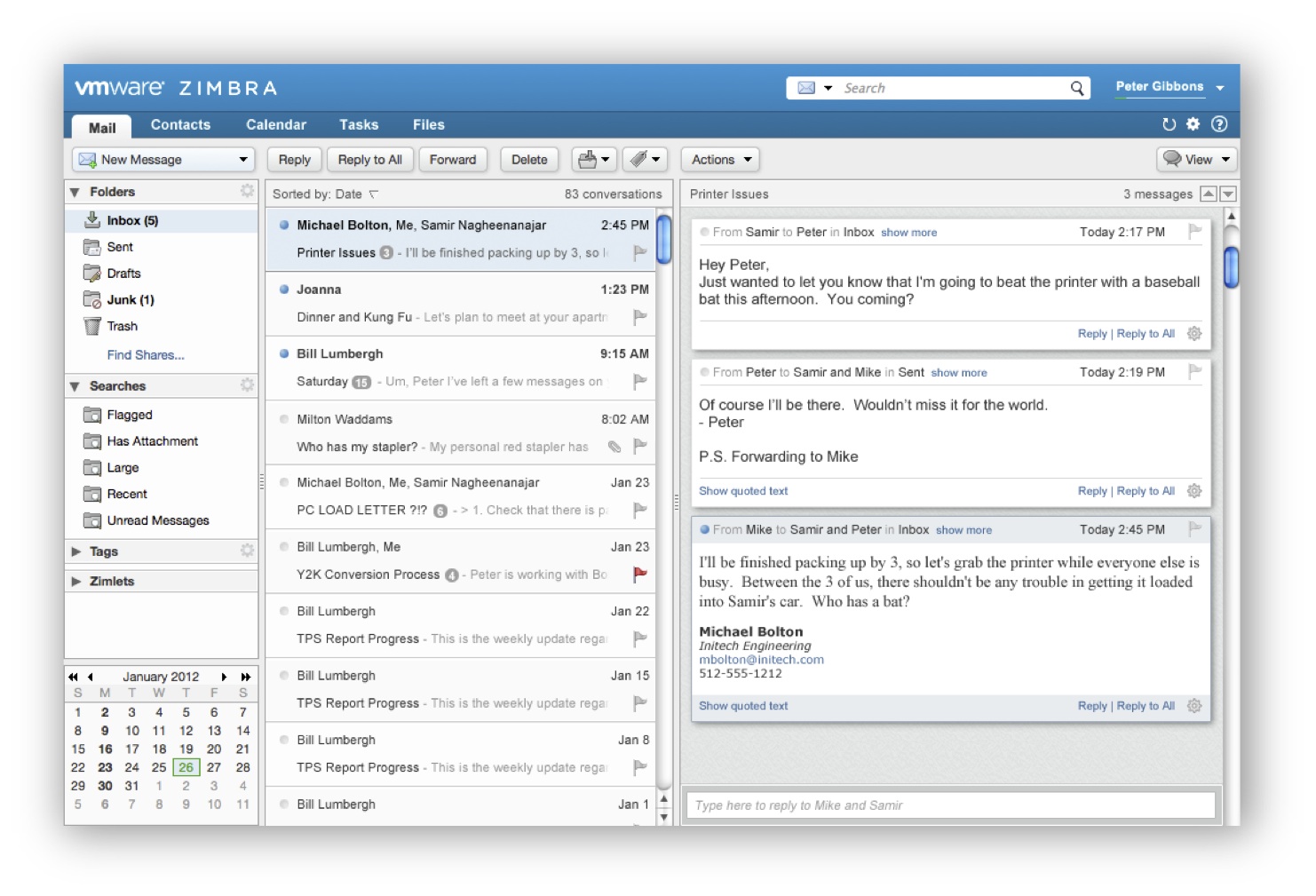 Expanded Search
New in Zimbra 8.0 is expanded search functionality that reduces the need to for users to manage folders and tags to keep their email organized. By surfacing more search options users can quickly find the message they're looking for and spend less time creating folders to find their mail.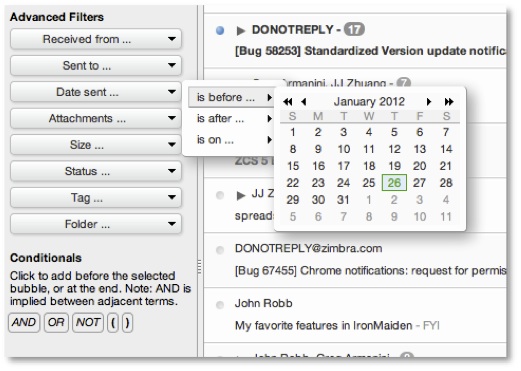 The calendar has also been given an extensive upgrade that allows power calendar users to access to very granular details that make activities like scheduling meetings for large group easier. For more typical calendar users we've added the ability to integrate personal calendars such as a Google Calendar into Zimbra, giving them a complete view of their work and personal schedules.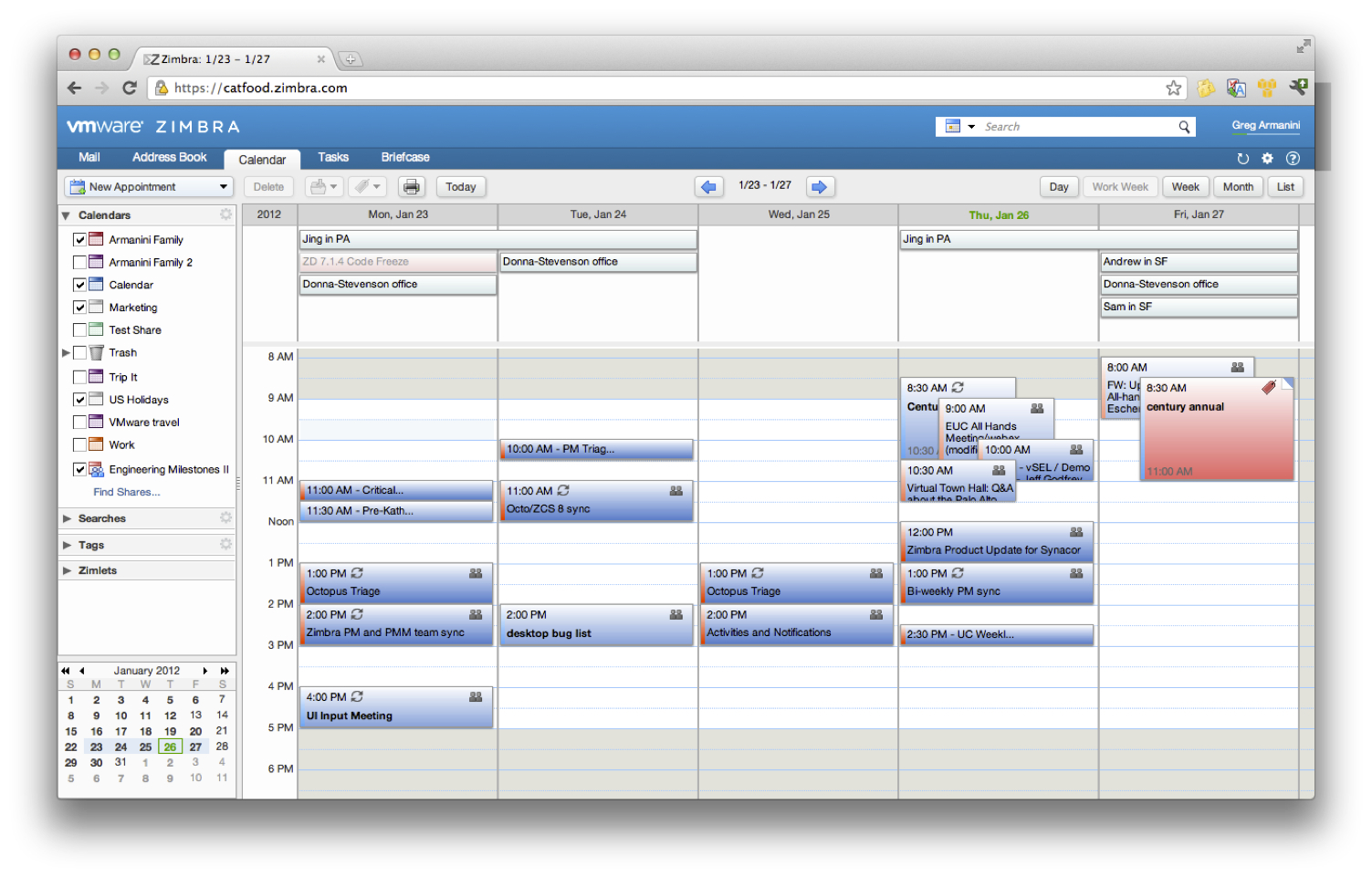 The benefits of running your messaging and collaboration applications in the cloud are clear, but not every organization is in the same place on their path to the cloud. Zimbra 8 allows organizations to deploy cloud-ready email and collaboration that delivers the user benefits of consumer cloud apps – access through a rich browser interface and mobile devices – and advanced IT management no matter where Zimbra is hosted. VMware Zimbra enables IT administrators to securely and easily deliver an enterprise personal cloud service for email and collaboration to end users on any device or platform and either on premise or in a hosting provider's private or public cloud.
Learn more about the new features in Zimbra 8.0 and download the Beta at:
http://www.zimbra.com/products/whats_new.html