A big advantage of Zimbra is its extensibility and interoperability. By providing an email solution that is both robust and extensible, Zimbra is open to the community to build enhancements to its core functionality and bring new, custom features to Zimbra users. One of the best examples of a value added solution comes from mxHero Inc, which has tightly integrated their open-source email enhancement platform with Zimbra, bringing innovative functionality through a continuously growing catalogue of plugins. Among the 23 plugins currently available:
Hero Attach: Send emails of any size to anyone. For example, send a 200Mb photo album.
Auto Signature: centrally managed email signatures using Zimbra's LDAP directory.
Attachment Track: Allow email senders to know when recipients access attachments.
Reply Timeout: Allow email senders to be reminded when emails are not responded to in time.
BCC Controls: Block usage of BCC or audit emails sent with BCC.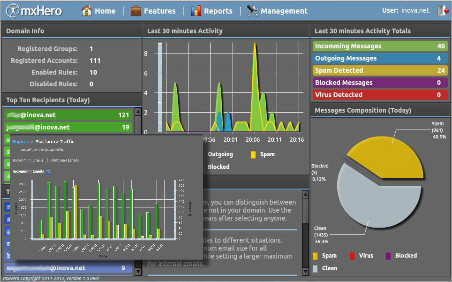 mxHero Dashboard
The mxHero platform is managed through a multi-tenant console with an intuitive web interface. The administrator can apply rules to all emails, specific domains, groups or users, and the console includes real time graphic analysis of email flows and reports.
Showcasing how mxHero makes a difference for end users and resellers, Inova Tecnologias, a Brazilian VMware partner and leading Zimbra reseller, now includes mxHero in all of its Zimbra offerings.
"mxHero has helped us add to our Zimbra value proposition," says Alexis Panagides CEO at Inova. "For both hosted and licensed Zimbra clients, we've seen it help tip the balance from competing email solutions. mxHero is a great differentiator for our Zimbra deals and our clients love it."
mxHero can integrate directly with Zimbra or be used as a border appliance. It is freely distributed as a VMware virtual appliance or an installable binary package. It includes a companion Zimlet for client side controls and is licensed under GPL.
Zimbra and mxHero together showcase how an open ecosystem can drive new innovation and create a competitive advantage for our partners. For more information on mxHero check out this video and to download go to www.mxhero.com.