How often do you spend extra time searching for the document that you want to attach to an email, or even worse you forget to attach the document before you hit send? The Drag and Drop Zimlet saves you time and makes it really easy. All you do is drag the files that you want to upload directly from the desktop to the Mail composer and drop them into your email. It's that simple!
Back in 2007 Zimbra released the first version of a Firefox 2.0 extension and an accompanying Zimlet to make the mundane task of uploading effortless. We just couldn't stop there, and contemplated multiple ways to bring this great feature to many clients. Browser Plus was considered, but deep down many of us were really more excited about HTML5's upcoming possibilities – especially its advantage of not requiring the user to install more add-ons. Fast forward to 2010 and that specification is now a reality.
How to Enable the Drag and Drop Zimlet: Go to Preferences > Zimlets > check the box for "DnD" > save & reload your web-client.
How to Use Drag and Drop with your Documents: Select one or multiple files on your computer. Then simply bring them into the Mail compose window and release them onto the message below the subject line that reads: "Tip: Drag and drop files from your desktop to add attachments to this message".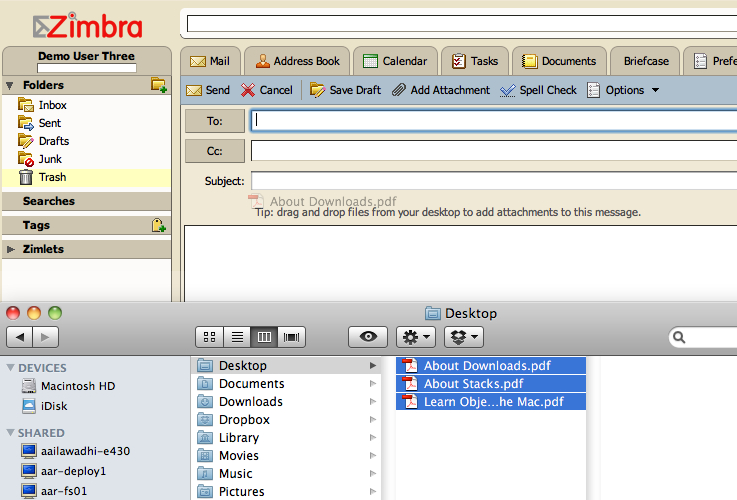 Your browser goes to work uploading:

Attachment is complete and a draft is auto-saved:

Download:
The Zimlet comes bundled in the latest server editions and desktop betas but you can also grab it here: http://gallery.zimbra.com/type/zimlet/drag-and-drop-attachments
Release Notes:
The previously XPI plugin is no longer needed with the use of HTML5 in modern browsers, just the Zimlet itself.
Compatible with ZCS/ZCA 6.0 (ZD 2.0) and newer.
Supported by the following browsers:
Firefox 3.6+
Chrome 4+
Safari 4+ (Mac)
A quick video of the Zimlet in action:



Coming soon: The ability to insert dragged images directly into body, addition to the lite/standard client, and briefcase support for the new HTML5 compatible Zimlet.