Our friends at Smartsheet have just posted a new Zimlet application tab in the Gallery that looks very promising; we have a few uses in mind already for our team and internal Zimbra deployment.  Here is a summary they kindly provided:
Manage Any Kind of Work with the Smartsheet Zimlet
Add the Smartsheet tab to your Zimbra solution and manage your projects, sales pipelines and crowdsourcing solutions as easily as you manage your Calendar.  Smartsheet puts a familiar spreadsheet-like face on a flexible work automation engine.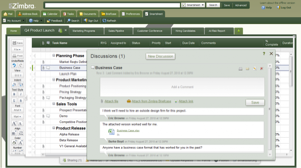 Integration Overview
Smartsheet is integrated with the following Zimbra features:
Calendar – view key project dates in your Zimbra calendar or key Zimbra calendar dates in your Smartsheet project calendar
Contacts – import Zimbra contacts into Smartsheet for streamlined sharing with colleagues and other collaborators
Briefcase – attach files from your Zimbra Briefcase to any row in Smartsheet
Email – receive Smartsheet notifications and reminders via email
The Smartsheet Zimlet is now available in the Zimbra Gallery.  Or watch the brief demo video below for more information.
More About Spreadsheet
Work projects often begin their life as a spreadsheet (e.g. sales pipelines, marketing events, research projects, product plans, candidate tracking,…) that gets emailed around to be updated.
Often, this approach falls short, and companies then invest money and training in converting to a software specific to Project Management, CRM, Marketing Automation, HR, etc.  To the millions of Zimbra users – keep the spreadsheet layout you like and gain the additional automation you need.  Smartsheet gives you a familiar, flexible spreadsheet interface and enables you to: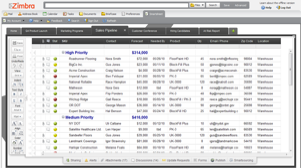 Attach any file or Zimbra Briefcase item to any row
Create multiple levels of sub-tasks
Track  threaded discussion on any row
See your sheet in Calendar and Gantt views
Set Alerts and Notification on any row that keep you abreast of changes happening
Get discrete updates on pieces of your sheet via email
Get a consolidated report across many sheets
It's the perfect union between spreadsheets, project tools and file sharing sites.