With thousands of votes from the Zimbra community submitted to our product management database, and tens of thousands of hours logged by our engineering team, we are excited to officially announce Zimbra Collaboration Suite 6.0.
ZCS 6.0 is chock full of everything you asked for – because we made sure to check off the hit list of top requests. Some of the highlights include improved delegation and share management, increased productivity with three-pane email view, read receipts, remote wipe for mobile devices, and more. Our goal was also to make ZCS 6.0 the most flexible product yet, so we've also made it easier than ever to integrate 3rd party software. You can learn more about the new features in 6.0 later today in a deep-dive blog post.
But that's not the only recent milestone: Did you ever wonder what Zimbra and South Africa have in common? No it's not our love for South African Hip Hop or Kwaito … it is that Zimbra just bested their population of 49.3 million because today, we have surpassed the 50,000,000th paid mailbox mark. Meaning if all Zimbra users made up their own country they would be the 25th most populous in the world, edging up on Italy (Pasta anyone?). It's amazing that we were able to gain ten million paid mailboxes just six months after reaching 40 million. Those 50 million accounts are spread across over 100,000 organizations that are now using Zimbra throughout the globe. That leap can only be attributed to our wonderful collection of partners and developers who continually remind us what people need so we can deliver the best collaboration product on the market.
We've been lucky to have the opportunity to work with a wide range of customers – from enterprises such as Mediacom and WebMD, to new government organizations including The Drug Enforcement Administration (DEA), Greece's Ministry of Foreign Affairs, and Oman's Ministry of Health; to educational institutions like Swarthmore College, Ecole Polytechnique de Montreal, and Savannah College of Art and Design.
Below are images a new mash-up built around ZCS 6 platform enhancements enabling Zimlets to be core application tabs.  "Zimbra Social" keeps you on top of all your Facebook, Twitter and Digg goodness.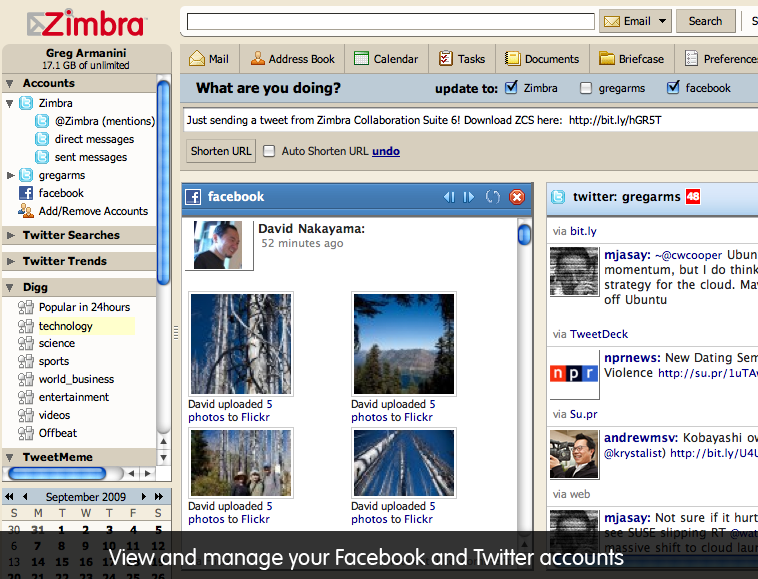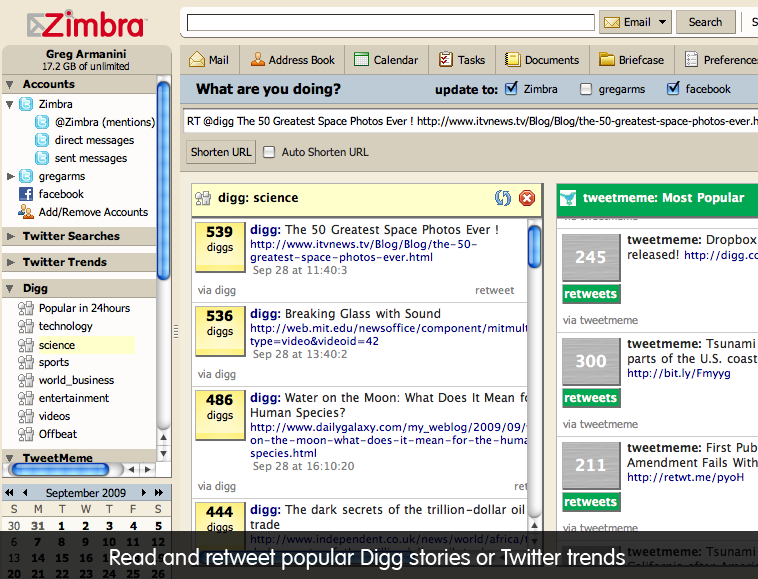 Get the latest version of the Social Zimlet from the Gallery
Thanks again for all your support and feedback; hope you enjoy ZCS 6.0!
Network Edition server download | Open Source Edition server download
You can also find a bit more about what's new in ZCS 6 on the Zimbra website.