In the last 3 posts in the Power Zimlet series we covered tools for improving email and contacts: contact organizer, ignoring conversations and attaching emails to messages.  Today we are turning to a new application in ZCS that many, including myself, find incredibly useful – Tasks.
Zimbra Collaboration Suite has had the Tasks application for some time now, but as of yet it doesn't support reminders.  And without reminders it is hard to keep track of Tasks at hand, making it sometimes hard to use.  This new Zimlet fills that gap by providing a reminder digest once a day.
Zimlet 4: Tasks Reminders
How the Zimlet works:
Once a day (when you first login), this Zimlet searches for your Tasks (and shared Tasks) and displays a list of all Tasks that are overdue, in-progress, etc. This list is shown only for Tasks that are due 2-weeks (14 days) from today and continues to show for 2-weeks post due-date. This date range is user configurable.
Additional Features:
– It also has a "Send Email" Feature, which helps in follow up of tasks. For example: You might want to send mail to someone asking why they are lagging behind their tasks, etc.
– You can click on the Zimlet and press "Show Again" to see the Reminder dialogs again anytime.
Below is a picture of the Tasks Reminder dialog that appears (sorted by date urgency).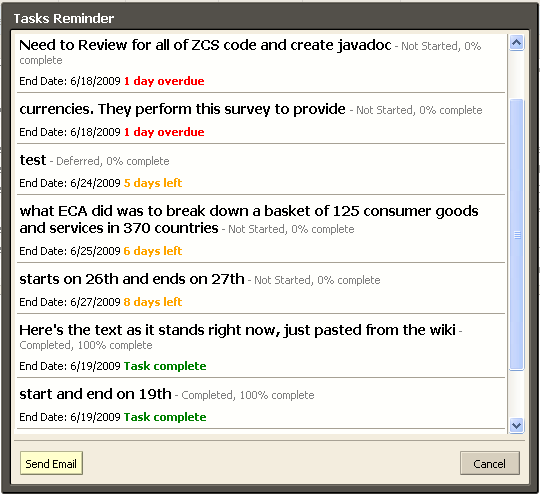 As usual, you can get this and learn more in the Zimbra Gallery.
Up next: Emoticons in Email
---