HackDay just kicked off, and we've seen all sorts of things go from idea to prototype in just 24 hours. This year has a twist: Not only are our engineers across the globe involved (with many making it an all-nighter) but everyone is invited to participate – even you. Open Hack 2008 takes place September 12-13th where anyone with an idea is encouraged to gather a team up, then spend a day building stuff that they think is cool. HackU (the University Hackdown) is even flying in its top ranks, with a few Zimbra customers among them (including Stanford & Georgia Tech) to join us at Yahoo! HQ in Sunnyvale, CA for rounds of coding; plus camaraderie, food, demos, awards, and good music. From our team KevinH & JohnH are also giving several presentations throughout the event.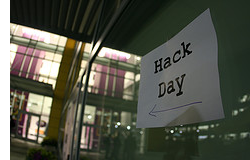 Some of the things we're ran across have given us ideas for Zimlets – so we're hereby seeking Zimlet beta testers. This will be an ongoing project, meaning that those who volunteer will get continuous access to the latest and greatest Zimlet ideas.
We need volunteers that:
Are using either ZCS (with the ability to deploy Zimlets – so essentially administrators of the respective system) or Zimbra Desktop users.
Are willing to try out different services that some of these may link to, and consciously note how they affect their daily Zimbra experience.
Of course give us feedback about their place in productivity, effectiveness, usefulness, and anything you'd like to see added or extended.
To join in just send me a PM/Email by the end of this week. (We'll be sure to reward you for your efforts.)
We can't take everyone, so if you not accepted don't feel bad – there's still plenty of cool & useful Zimlets over in the Gallery – plus they'll soon be making it off engineer workstations and into perforce. We're even working on a way to make them easier to install in Zimbra Desktop, but you can find current directions here.
Those on the development side will soon see a few community members marked "Zimlet Guru" – if you've created a few yourself, and are into helping out others in the Zimlet section of the forums, be sure to drop me a line.