We've aimed to blur the line between a Ajax web-client and a conventional desktop application, and this release is a leap towards reaching that goal. If you're just joining us here's the best part: It's an offline capable client so you can take your data with you whenever you don't have internet access – then sync any type of interaction that you can do in normal webmail access when you get connected again. So many cool new things I don't know where to begin – the Zimbra Desktop team has been very busy since Beta 2.




They're here, and your tasks, documents, & briefcase items can now follow you wherever you may roam. If you're already using Zimbra Desktop against a Zimbra Collaboration Suite server these will show up on next edit or item move via delta sync – while a full account sync or reset will pull in prior items. Personally, having briefcase items available offline is a major plus – as offline calendaring using the same AJAX web-client interface has already long since won me over.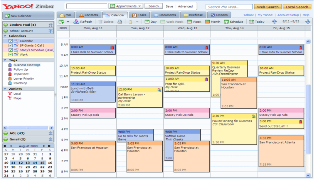 Yahoo! Mail users rejoice – There's now IMAP access through Zimbra Desktop to all free, plus, and business accounts. You didn't read that wrong. Normally only Plus accounts have POP access, but as a perk when using Zimbra Desktop the mail is synced via IMAP; which is a much better protocol for keeping your mail organized – and yes it's available to free accounts as well. Hook-up your @yahoo.com account or go grab one of the new @ymail.com and @rocketmail.com addresses. (Note that some apps don't sync to Yahoo! servers yet so the data is local.)

Mailto: link handler – For Mac and Windows protocol handlers allow you to click on a mailto: link in any browser, and it will bring-up Zimbra Desktop's composer with a javascript call. If Prism is not already running, it will start the web-app as well with a url call, then pop up compose. We don't want to be accidentally invasive, so to turn this feature on you'll have to check the box in global preferences to make it the default mail client on your computer.



Icon badging – To keep you informed, we now display the total number of unread messages across all-inboxes; in the dock icon for Mac and on Windows there's now a tray icon, which changes to a new mail image if there are unread messages.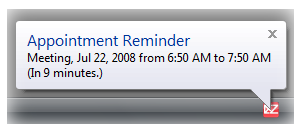 Mac & Windows users may just decide to toss out their toasters, because we now have mail & appointment notifications built-in. (Zimbra Toaster still serves as a lightweight new-mail checker with quick flag and delete features. There's also some community contributed Linux solutions like Zimbra Notify.)

Zimbra Desktop on Windows now takes advantage of the native tray icon bubbles and on Mac of course we use Growl. (You need to install Growl separately which is quite straightforward.) You'll also need to enable "show pop-up notification" under both Mail and Calendar tabs in preferences, since by default notifications are turned off.



The latest versions of Zimbra Collaboration Suite have also introduced browser title & favicon flashing, mail & account tab highlighting, as well as sound notifications – which have been ported to Beta 3 as well. So there's no excuse for not noticing a new mail if you're at your computer. Ok, we can still think of a few excuses – but note that the pop-up notifications are per account settings; so you can have some accounts on and some accounts off if you should need to 'forget about' that important meeting

In-case you've never tried Zimbra Desktop, or are still using an Alpha, and never tried it out during Beta 1 or when we served-up Beta 2: There's also easy setup menus for setting up Zimbra Server, Yahoo! Mail, GMail, AOL, or any other IMAP/POP accounts you want to use. For Beta 3 we've thrown out JavaMail and wrote a brand-new robust IMAP/POP client-engine from scratch.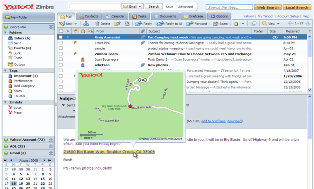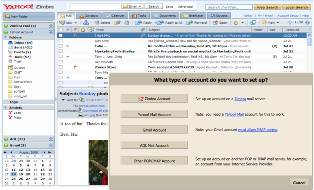 To get you up and running when you need it, there's now an auto-start service. During launch of the Prism web-app a check is run to see if the background service is running – if not, it's automatically started. This works on all 3 platforms, and proves especially useful on Linux since the service doesn't automatically start after reboot. (See this forum thread for ways to do that.) There's also an animated splash screen during launch of Prism so you know it's working on bringing-up the background process.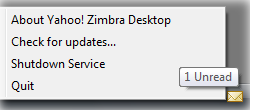 Icon menus – On the Mac dock icon and Windows tray icon, we now have right-click menu items to check for updates and shutdown the background service.

Windows minimize to tray – Clicking on the "X" now only minimizes prism window to tray. To quit prism, right click the tray icon and choose "Quit".




This release makes Zimbra Desktop available to a quarter-billion Yahoo! users with support for 20+ languages. The default theme is a revamped Yahoo! skin to help keep the interface familiar as it spreads to those millions of users. Hope you enjoy, and as we advance upon a GA release: Thanks to the Zimbra Community for all your bug corrections and feature requests so far. The Mozilla team developed a few of these new Prism features from scratch just for us, you can read more about some of them here. But stay tuned, we're gonna have a closer look under the hood to see how we implemented these features and the inner workings of Prism + Zimbra Desktop in a future blog post.

If it's not available to you via auto-update yet, you haven't been building from source, or are even just discovering it for the first time, you can download it here for Mac, Windows, & Linux.


---
Have an idea for Zimbra Desktop or just want a tweak built upon these new components? We're interested in hearing your feedback on it below or over in the Community Forums. A bunch of us are at the O'Reilly Open Source Convention (OSCON) in Portland, Oregon this week – so drop in around booths 415 & 519 if you're there.