Now that the iPhone 2.0 software update is here, here's a sneak peek of what Zimbra Mobile for iPhone looks like.
First, if you are new to Zimbra Mobile it's part of Zimbra Collaboration Suite Network Edition and provides over-the-air synchronization of emails, appointments and contacts between a user mailbox and their mobile device. "Push" technology can make sure that updates are delivered to mobile devices as they happen in user's mailbox on the server. Zimbra Mobile supports a wide range of ActiveSync compatible devices, including Microsoft Window Mobile (PocketPCs and Smartphones), Treo Palm OS series, Nokia E series (and other devices running 3rd party clients like RoadSync). Now, the latest additions to our device list are iPhone and iPod Touch running the iPhone 2.0 software. We've been tuning and polishing Zimbra Mobile to be a great match for iPhone.
I know everyone has his or her own favorite email gadget but personally, I'm glad I have an iPhone. With iPhone's large, bright touch screen, instant "push" delivery, HTML email display, support for all sorts of document/media attachments and meeting invitations plus a photo-enabled address book, what else can I wish for? And the best part is Zimbra Mobile for iPhone takes full advantage of all that!
OK enough words. Let's see what it will look like in action.
Note: Zimbra Collaboration Suite Network Edition 5.0.7 is required for iPhone sync support.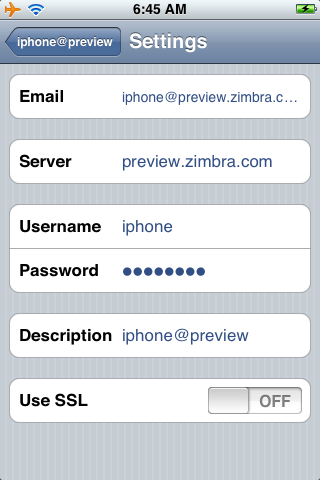 Initial Sync — Pretty Darn Fast
You first setup how the iPhone will sync with a Zimbra Server at your company (or at your service provider):
Once the connection is established iPhone will start to download your email, calendar and address book data. iPhone is actually powerful enough to download the different data categories in parallel. You'll see emails start to show up in the Inbox at the same time contacts are added to the address book.
I believe the parallel download is a unique feature that I haven't seen on other devices. Also many other Zimbra Mobile devices typically only download partial envelope information and some text of each message, and get the rest of the message or attachments when the user asks for them. Given that iPhone has enough memory, it can download up to 200 most recent messages in full MIME format so that everything is available on the phone.
Rendering Messages on the iPhone
iPhone can view or play many common attachments, including pictures (inline view), PDFs, various audio/video formats (great for receiving voicemail in your Zimbra mailbox), Word docs, PowerPoint slides, and Excel spreadsheets.
Here are some examples of messages. I really like how iPhone displays deeply nested replies.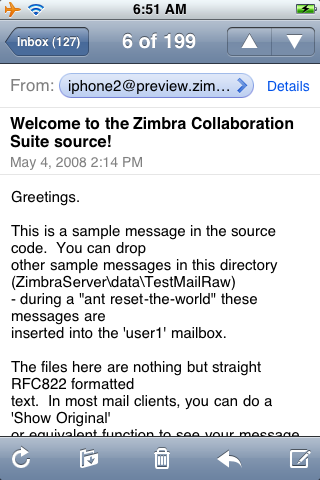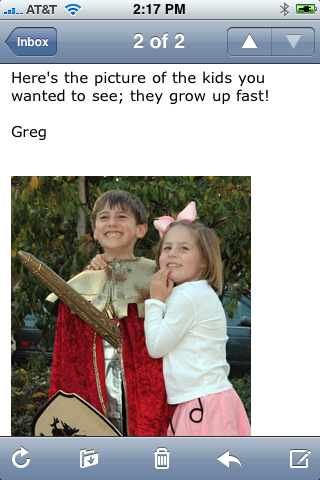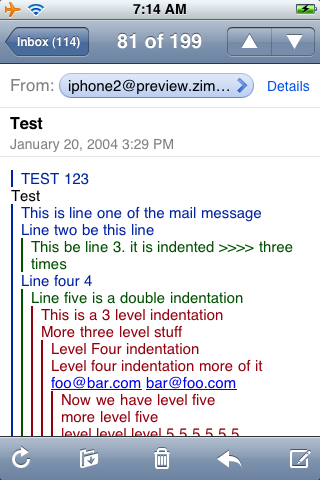 Appointments, Reminders and Calendar
Of course Zimbra Mobile for iPhone is not just about email. As iPhone receives calendar events and meeting invitations from Zimbra server, it will alert users of incoming invitations, and allow users to accept or decline meetings from the device. Accepted meetings are added to the calendar, with alarms to go off at scheduled reminder time.
Zimbra Mobile for iPhone supports all types of appointments, recurring events with all kinds of exceptions, as well as participants across multiple timezones.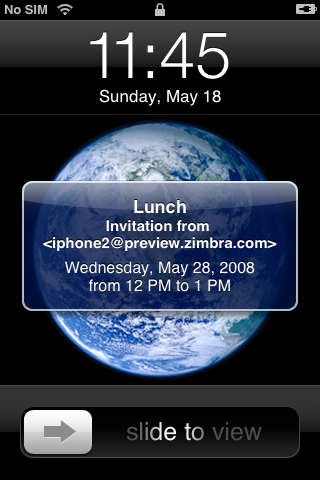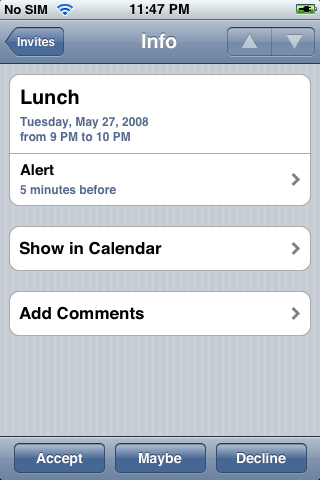 <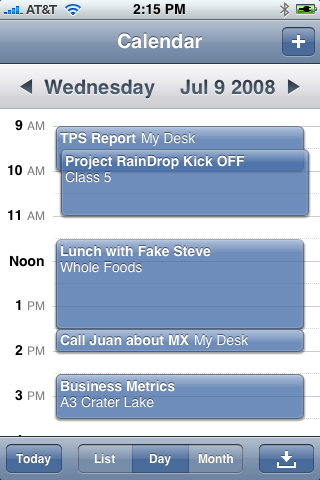 Address Book
Got a big address book? No problem. One of our power users has 8000+ contacts in his address book. iPhone has enough memory to download and hold it all. Contacts with photos can be synced with the Zimbra address book as well, so go take some pictures of your friends with that iPhone camera.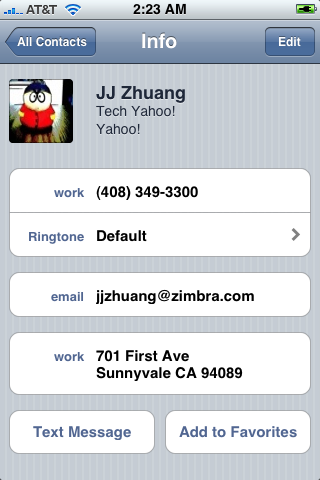 Zimbra Mobile for iPhone is a new feature in Zimbra Collaboration Suite Network Edition 5.0.7, and it requires the iPhone 2.0 software update from Apple. I'm really excited about the Zimbra Mobile for iPhone user experience. This is a great addition to our existing solutions for iPhone which includes ZCS optimized for the mobile Safari browser and our iSync Connector for the Apple Desktop. To find out more about Zimbra Mobile for iPhone, check out the Zimbra Mobile Forums.
---
JJ Zhuang is lead developer for Zimbra Mobile.