This week, Zimbra held a Zimbra Administration Course at the Yahoo! headquarters in Santa Clara. For those who don't know, the administration course covers just about everything in Zimbra from A to Z.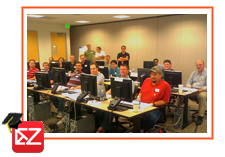 I had the opportunity to lead the first two days of the basic/general sessions of the training course. Attendee's learned everything from Installation and upgrades to Java Garbage Collection and Disaster Recovery.
We like to play a game during training called "stump the chump", where attendee's who stump me get t-shirts. Attendees also get to keep all the training materials, and exclusive access to a special training forum called "Camp Zimbra.
The Third day is the advanced course, and it was led by Anup P. Anup is a Zimbra Service Engineer who has a ton of Large Deployment experiences under his belt. He led the Third day covering things like performance graph generation, and cluster-specific options and questions.
Congratulations to the Zimbra Admin Class of June 2008 from all of us at Zimbra!
---
If you're interested in when a Zimbra Training will be available for your region, or when the next one will be available, check out our Zimbra Training Page.