Zimbra has a toaster for Mac, and a toaster for Windows…but didn't have a toaster for Linux until pbruna came along with his adaptation of the checkgmail program by Owen Marshall. Linux fanboys rejoice, your toaster is here (bread not included).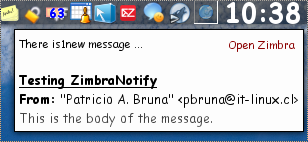 If you haven't had time to drop by the forums lately here's a quick preview of a recent community contributed project.
Our Linux users have been keeping an eye on this RFE, as it would make a nice complement to Zimbra Desktop.
Bugzilla has a ton of your cool ideas that we're working hard to get finished. In the meantime, Linux users: how do you find out when that e-mail you're expecting, has come in?
PBruna has come to the rescue with a toaster-like sibling!
He's also hard at work to produce a SOAP based version so that it will do things like:
Apply fast "mark as" states to messages
Show appointment notifications
Provide a quick contact search & more
You can grab his current version over at the Zimbra Gallery.

Wiki: ZimbraNotify – Zimbra :: Wiki
Got a comment or question about ZimbraNotify? Join the discussion over at the Zimbra Forums