The coolest thing ever is highlighted in this blog post with a cool video. It took us a little longer than expected to get the extension out, but it's ready. You need to make sure that you have the com_zimbra_dnd.zip zimlet installed on the server.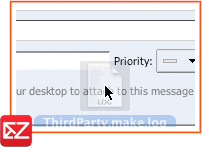 This is a Firefox 2.0+ (including Beta 3) extension that allows ZCS 5.0+ users to simply drag attachments into their briefcase and mail compose window.
Special thanks to Suman Raj who spent countless hours getting writing this and keeping Zimbra awesome! The extension can be found over that the Zimbra Gallery.

Enjoy!