What do John Edwards, Barack Obama, Robert Scoble (podtech.net), Larry Hryb (XBox), and Steven Wright have in common? They're all "Twitters".

Twitter began in October of 2006 has become a world-wide sensation. Twitter is a
"micro-blogging"
service that allows people to send short messages letting people know what they're doing, or where they're going, etc. via the web, telephone, and IM
What makes Twitter cool is the spontaneity of all the posts; of course the challenge becomes being able to quickly post right when the inspiration hits. For many of us that happens in email where we spend most of the day communicating. So we were pretty stoked when we saw you can now update your Twitter page directly from within Zimbra Collaboration Suite thanks our friends at Vision Ten. They used our Zimlet mash-up technology to add a Twitter module directly in the ZCS UI.
It's called the Vtwitter Zimlet; you can type a quick free-form message or even drag an email message onto it and it will take the first 140 characters and update Twitter.
We've decided to have a little fun with this. :) We have created a Twitter account, and several of us will be updating it when we get a chance. We'll be updating it directly from the web client, using the Vtwitter Zimlet. Our name is (you guessed it) Zimbra. Make us your friend!
The Vtwitter Zimlet is FREE, released under the GNU Public License, and is Open Source. The Zimlet can be found in the Zimbra Gallery or on the Vision Ten website.
Many thanks to the folks over at Vision Ten!
Quick Introduction:
---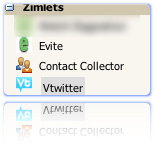 The Vtwitter Zimlet shows up in the Zimbra Web Client like a normal Zimlet.
---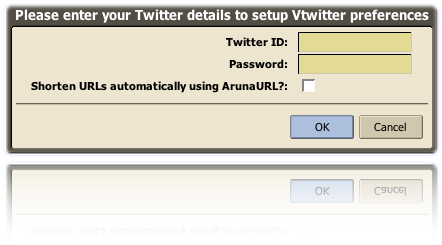 To access the Twitter service, you will need to right click on the Zimlet and choose preferences. Then enter your username and password. You must already be registered.
---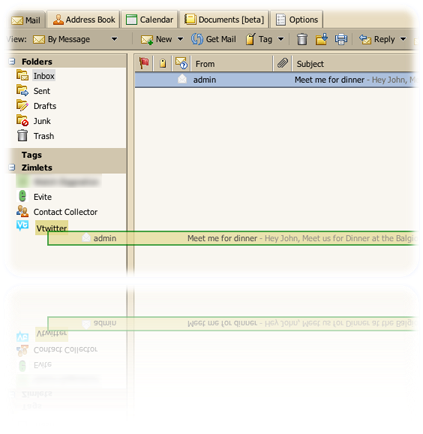 Using the Zimbra Web Client, you can drag a message directly to the Zimlet. The Zimlet will upload the first 140 characters. This way, you can easily update Twitter without ever ever typing a word.
You will be given a chance to edit what's uploaded.

---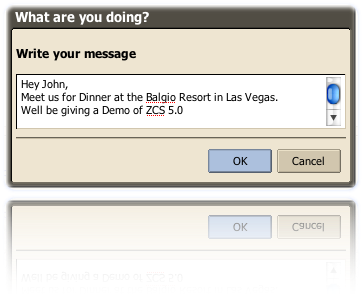 Here is a message after it's been added to the Vtwitter Zimlet. Click OK, and the message will automatically be uploaded to Twitter.
---
NY Times: From Many Tweets, One Loud Voice on the Internet

Zimbra Gallery
Vtwitter Website

Twitter Wikipedia Article