One of the more overlooked features of the Zimbra Web Client is the Zimbra Minicalendar.
In this User PowerTip, we will discuss how to schedule appointments with 2 clicks of the mouse using the drag 'n drop feature. We also added the ability to download this PowerTip in PDF format.
---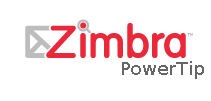 User's PowerTip #3: June 11, 2007
---

Introduction:
---
One of the goals of Zimbra, is to provide true and easy collaboration. Many of us have tons of appointments and e-mails, and use Zimbra to keep it all straight.
Using the Zimbra Minical, located in the Zimbra Web Client, a user can see and schedule appointments at a glance. Days that have appointments, are bold; in this case: June 1st.
You can hover your mouse over the date to see what appointments you have for that particular date, right click on a date to find message that were sent and received on that date, and schedule appointments.
You can also drag messages onto a specific date, using Zimbra's Web Client, to schedule an appointment from an e-mail. This allows you to schedule appointments quickly and more efficiently.
---
Drag 'n Drop:
---
In the Zimbra Web Client, you can drag and drop items such as contacts, e-mails, and folders into other objects.
In this case, I have received an e-mail from Kevin, asking me to go to lunch on July 4th.
So that I remember to go, I've taken the appointment, and am dragging it to July 4th on the Minical. As I drag the e-mail, it takes on a translucent color.
When I get the correct date go, and I'm presented with a window asking for more information.
---

Entering Data :

---

When you drag 'n drop the e-mail into the date, the system will ask you for more information.
Items such as the meeting subject, attendees, and message are populated from the message.

You can also schedule resources, and locations, just as you would any normal meeting request.
Hit save, and the invitations go out to each recipient of the e-mail, in this case, Kevin.
---

More Information :

---
Zimbra Forums – http://www.zimbra.com/forums
Zimbra Wiki – http://wiki.zimbra.com/
Zimbra User PowerTip #3 – Handout