Many users run both Zimbra and Nextcloud services and for this reason Zimbra and Nextcloud are partnering up to bring users a better experience. Nextcloud and Zimbra share a common mission – providing the best digital collaboration tools, and keeping data private. That's why it makes sense for Zimbra and Nextcloud to work together to provide users of both solutions an intuitive and integrated user experience.
We are pleased to announce a new and improved integration between Nextcloud and Zimbra! The integration features the following capabilities:
Display Zimbra E-Mails and Events on the Nextcloud Dashboard
Search your Zimbra E-Mails within Nextclouds unified search
See and search for Zimbra contacts within Nextclouds contact search
Create a Nextcloud Talk conversation directly from within a Zimbra Calendar invite, for more information see the Zimbra Nextcloud Talk blog post.
This integration is supported on Zimbra 9 and above.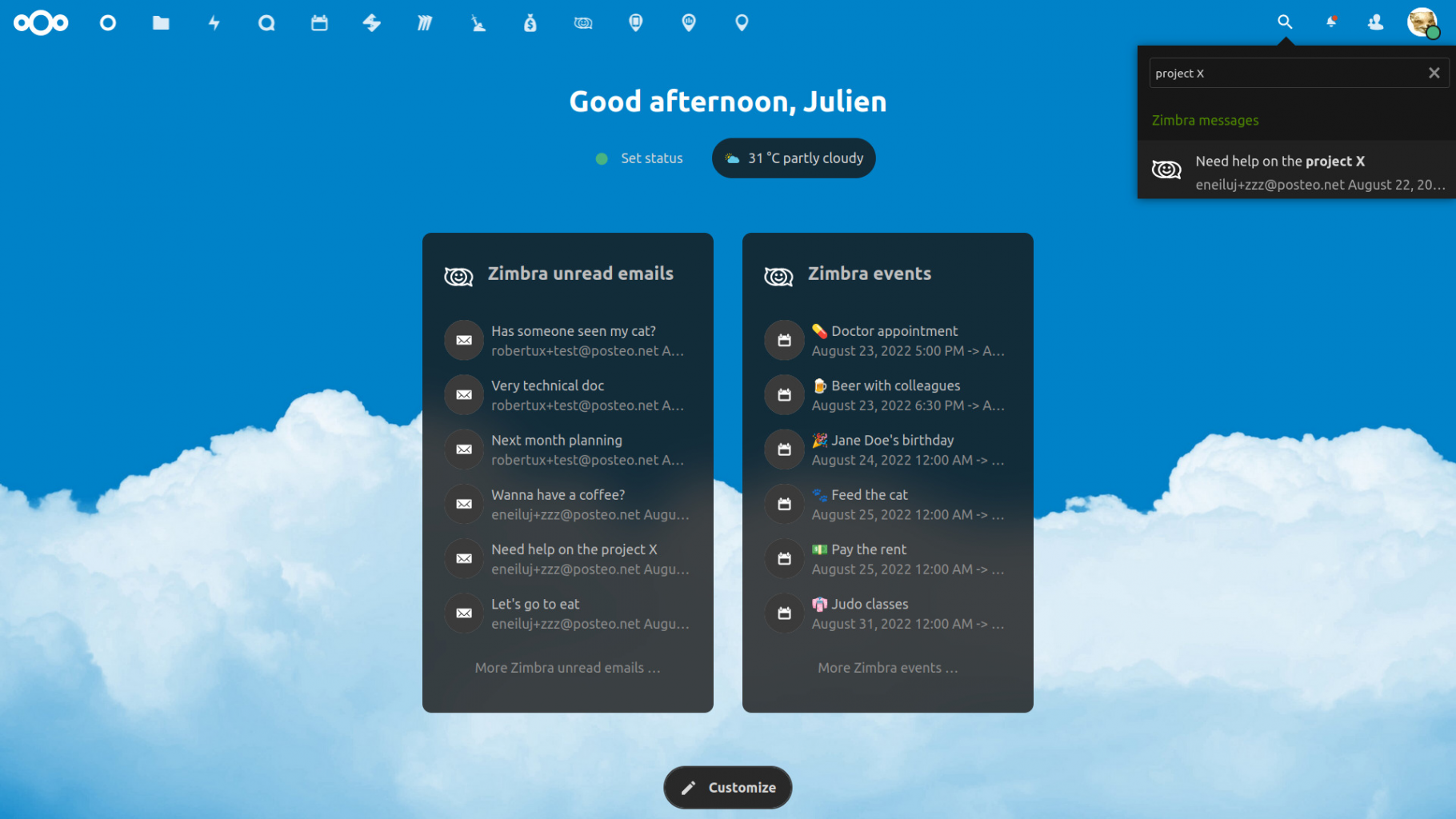 As a Nextcloud user, you can install the Zimbra integration to combine the benefits of both solutions. This way you have all the tools you need to stay productive and keep business communications connected.
Other great reasons to use the new integrations:
Ensure full governance of all conversations using message audits, flexible retention policies, powerful engagement analytics and dashboards, and more
Leverage more advanced user governance features, access levels, and role-based permissions
Easily map even the most complex organizational structure into groups, teams, and discussions
We are proud of our mutual dedication regarding data privacy. Since both our companies got started, data security has been our top priority and we enable our users to achieve digital sovereignty. As we are both open-source companies, we enable you full access to our code bases. Now, you can be even more productive and achieve your goals with both Zimbra and Nextcloud.
Intrigued? The Zimbra gallery already features the Nextcloud Talk integration and the integration in the Nextcloud search and dashboard are available from our app store.