Hi Zimbra Customers, Partners & Friends,
Have you ever heard of a Zimlet?
A Zimlet is a magical piece of code in Zimbra that makes Zimbra email, chat, video, calendar, etc. easier to use. Zimlets can also be used to integrate Zimbra with other third-party apps used by your organization like SalesForce. And of course Zimbra has built-in integrations with apps like Zoom, Slack, Dropbox and more … and these are all done via Zimlets.
Let's take a look at some Zimlets that are embedded into your user experience. Here are some great examples.
If an email contains a date, a day, or a time, it will be displayed in blue text, as shown below.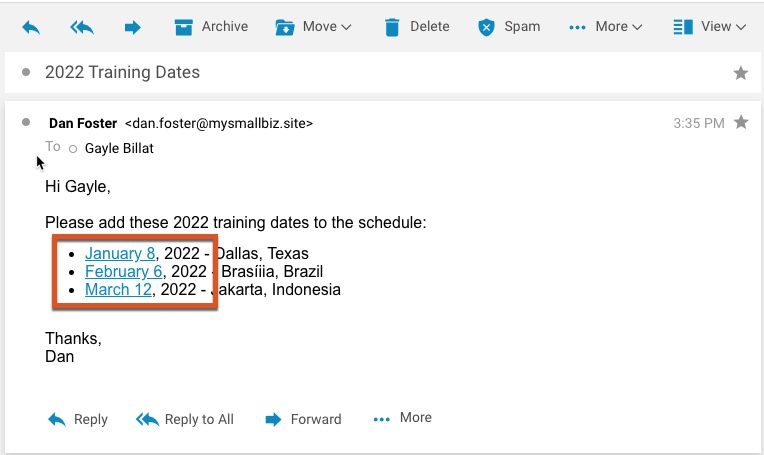 You can mouse over these blue bits to see your appointments for that date.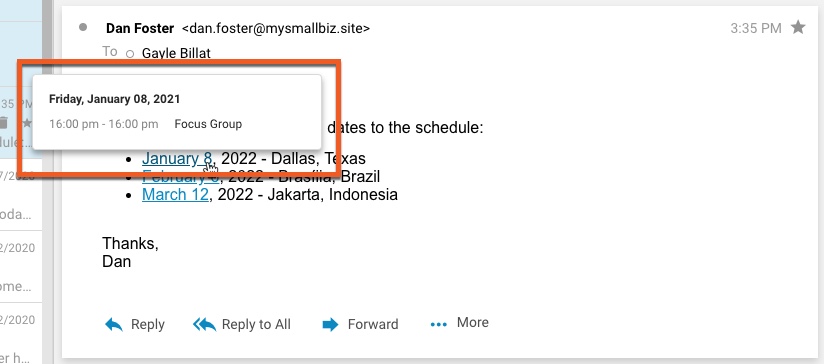 And you can click these dates as a short cut to open your calendar to that date.
Other Zimlet examples include (but are not limited to):
Phone numbers: If shown in blue, you can right-click a phone number and dial the number from Skype or from a VoIP phone (if your organization supports this option).
Address: If shown in blue, you can right-click to open the address in Google maps.
Purchase Order Numbers, etc: If your organization has integrated with SalesForce or any number of other third-party information systems, important numbers such as purchase order numbers will be shown in blue. You can right-click such numbers to open the supporting system and view related information.
Flight numbers: You can right-click a flight number to see the status of the flight arrival time.
For more information about Zimlets, visit zimbra.org.
Thanks,
Your Zimbra Team