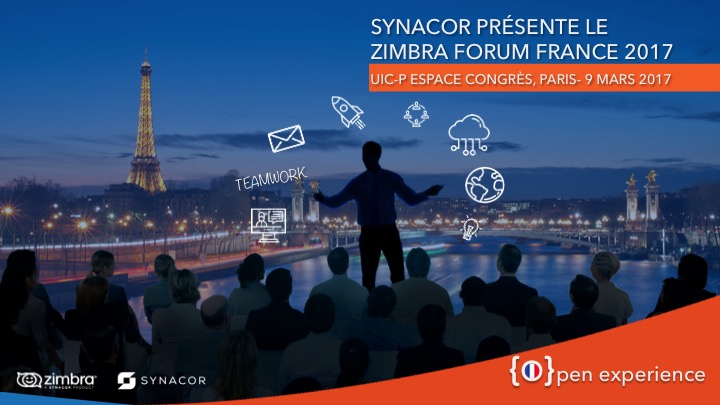 Our 8th Annual Zimbra Forum France is almost here! Have you reserved your spot?
When: 9 Mars 2017
Where: Paris, UIC-P Espace Congres
There are many reasons to be excited about attending #ZimbraFF17 … here are our top ten!
Hear our plans to work with the Zimbra community & ecosystem to develop our solution and how we took the lessons from the past to shape a better future for our community. Announcements will be made by Erynn Petersen, VP, Email & Collaboration at Synacor, and Jorge de La Cruz, Product Manager at Synacor. Don't miss it!
Intro to Zimbra session for anybody who wants an introduction to Zimbra or a refresher on who we are and what our product can do.
Zextras and Cloud Temple, our 2 platinum partners, show you how they have been working closely with Zimbra to develop integrations and extensions to our solution. They demonstrate how powerful Open Source can be.
Technical and commercial workshops fill the afternoon. See how our technological partners and resellers have extended Zimbra. Security, storage, communication … there is no limit to how our technology can be applied and developed.
Clients show brilliant examples of the usability and resources of Zimbra.
For the first time we have a plenary session translated simultaneously, so you do not miss the announcements from our Corporate team.
Enjoy networking moments with the community in a brand new location, minutes away from the Seine with an impressive view of the Eiffel Tower. Create memories!
Meet both our Corporate leaders and our French team for the chance to ask anything you ever wanted to know about Zimbra.
Enter our selfie contest! On the day, take 1 (or more) selfies with the Zimbra selfie stick, post it on your social media with #ZimbraFF17 and we'll select the winner(s) at the conclusion of the day. Great prizes for a fun contest.
Get offers, discounts, documentation and goodies from Zimbra, a Synacor Product, its partners and sponsors to make sure you'll remember this day.
Don't take our word for it. Register now to experience Zimbra Forum France for yourself.