Welcome to Part 4 of Our Zimlet Showcase: Email Sticky Notes Zimlet
For background information on Zimlets, refer to this post: Did You Know: Zimlets!
For more information on Zimlets, visit zimbra.org.
How often do you have thoughts like these while reading an email or checking your calendar:
– Remember to confirm those dates.
– Don't forget to send him that file.
– I should jot down that phone number.
Now you can use the Sticky Notes Zimlet to make yourself a note or reminder with a simple drag-and-drop!
As you see below, after you install and enable the Zimlet, the StickyNote button is in your toolbar.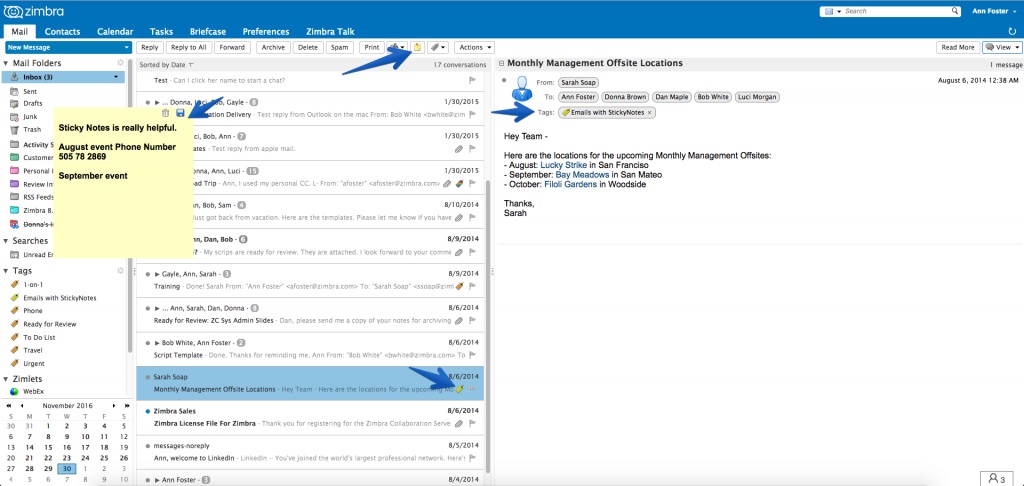 Click the StickyNotes button in email, calendar or contacts to pop up a yellow note. Enter your note text, and every time you open that email, etc., the note opens, too.
Sticky Notes are also great for searching. Any item with a sticky note will have a yellow tag, so you can easily see that there is a sticky note without opening the item. You will also see a "Items with Sticky Note" tag in the navigation pane. Click the tag in the nav pane at any time to see all of your items with a sticky note.
Click here for more information about the Sticky Notes Zimlet.