It's easy to talk about how new communication channels will marginalize email – even in the business world. Yet simply checking your inbox on a Monday morning, it's obvious that email is not dead and plays and important role in communication.
Osterman Research recently published a survey of corporate email users on their use of email. The results show that email is still a critical part of the work environment for many people.
We're not cutting back on email at work
Despite social media channels and other means of communications, we still rely on email at work.  90 percent of the survey respondents use email as much or more today than a year ago: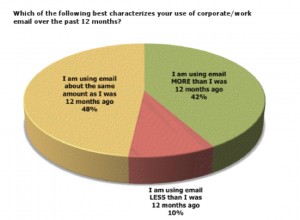 Source: Osterman Research, "Results of a Survey with Email Users," April 2013
Businesses may be embracing Twitter, LinkedIn and Salesforce Chatter, but they still rely on email to get things done.
We spend a lot of time in the email application
According to the study, the average user spends nearly two and a half hours a day actively working with email.
This research highlights the link between email and productivity.  Any place you spend hours each day is the first place to look for productivity gains and efficiencies.
Fine-tuning email for productivity
Zimbra has evolved over the years to fit more easily into your work life. Its basic design, with integrated functions for scheduling meetings, sharing files and maintaining contact information, means that you spend less time switching between applications.  With your Zimbra 'personal cloud,' you don't have to spend time moving data when you switch between devices. And having a common web-based interface keeps you productive when you move from tablet to desktop to phone.
If you really want to reclaim some time, use Zimlets to embed functions from other applications in the Zimbra deployment. Many Zimbra customers integrate CRM, mapping and other application Zimlets in Zimbra to create productive "mash-up" environments for their employees.
Zimbra 8 introduced several features designed to save time and improve productivity:
Unified Communications support in Zimbra 8 makes it easier to switch between communication channels with one-click dialing or fast instant messaging in response to an email. See the blog entry on Unified Communications.
Zimbra 8 includes numerous enhancements for handling the growing volume of email, including conversations and activity streams. (See the blog posting Making Sense of Email Overload with Zimbra 8 or learn more about Zimbra 8 here)
You can download the survey report from the Osterman Research site.
http://www.ostermanresearch.com/freeresearch/download180.htm