Today's messaging and collaboration systems must be highly reliable: end users need access to email and calendaring 24 hours a day, 7 days a week. Designing a reliable messaging and collaboration environment entails choosing the proper storage, server and operating system. Many of us employ storage area networks (SANs) to provide that storage reliability, but SANs require specialized expertise to manage.
Today, VMware Zimbra is releasing a new whitepaper detailing our testing of Zimbra with support for NetApp Network File-based Storage (NFS) and VMware vSphere, a significant competitive advantage over other email and collaboration systems. Zimbra 7 takes a new, innovative approach towards messaging and collaboration.
File-based storage gives customers additional flexibility, scalability and cost savings when designing and deploying a messaging system. Listed below are just some of the benefits of using file-based storage for your enterprise email deployments:
Flexibility – At least 80% of enterprise customers are running a heterogeneous storage infrastructure that includes NFS as part of that storage infrastructure. Customers want the choice of Network Attached Storage. The VMware Zimbra Collaboration Server supports all of the available options for storage including NFS, SAS/SATA, Fibre Channel, and iSCSI. Other messaging and collaboration products such as Microsoft Exchange, Notes and GroupWise don't support or have withdrawn their support for file-based storage or NFS. However, when deployed on vSphere, ZCS also supports Network Attached Storage (NAS) for all of its components. We are the only messaging product that supports the use of NAS.   See the new features in Zimbra 7.
Scalability – With file-based storage you can dynamically grow or shrink vSphere datastores up to 16TB. Deploying a virtualized Zimbra Collaboration Server means that you can just create an additional virtual disk file, add it to the virtual mailbox server and grow the logical volume and you have increased the mailbox store. For service providers and hosting services moving their services into the cloud, file-based storage provides significant operational, cost and management reduction. See how Zimbra 7 integrates with cloud computing.
Cost Savings – In all scenarios file-based storage represents cost savings across the board in management, upfront acquisition costs and maintenance. Forrester conducted a study of 7 large customers using or considering the use of file-based storage and found that the cost savings over three years was greater 50 percent. In medium to large organizations, fibre channel directors, edge switches, host bus adapters (HBAs) and cabling can cost in the hundreds of thousands of dollars not to mention the cost of maintaining these infrastructures. File-based storage uses the existing networking infrastructure that organizations are most familiar with. No need to deploy a separate storage infrastructure to support the organizations applications.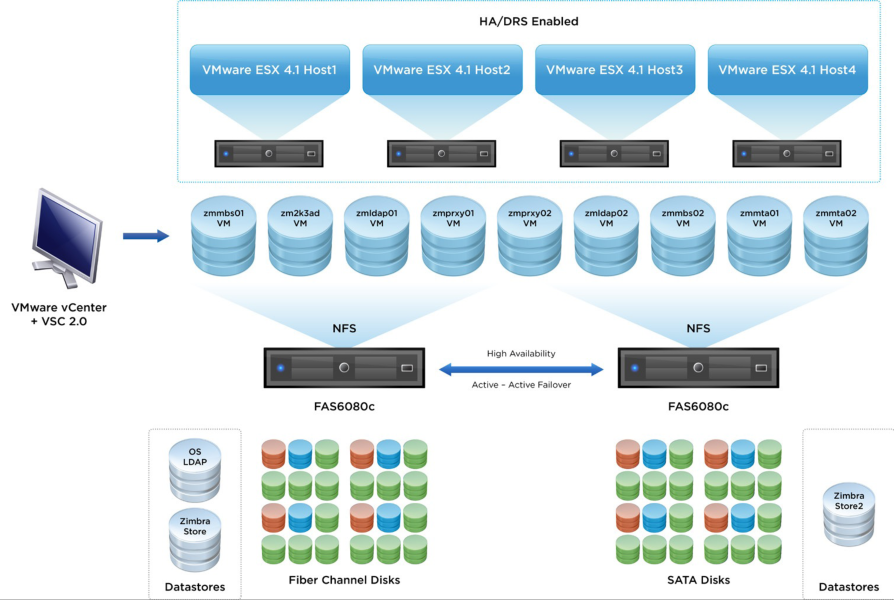 The VMware Zimbra team partnered with NetApp to create an enterprise test environment consisting of vSphere, Zimbra and NetApp storage that easily scales to 100,000 users. The test results are very encouraging: NAS performed on par with Fibre Channel. View the NetApp and VMware vSphere Best Practices TR-3749 at http://media.netapp.com/documents/tr-3749.pdf
The combination of VMware vSphere and NetApp file-based storage means:
Full support for virtualization and all of vSphere's advanced features (vMotion, Storage vMotion, DRS)
Simplified high availability through the use of VMware HA
Server consolidation (reduced datacenter footprint, reduced power and cooling and a dynamically balanced workload )
Zimbra Collaboration Server is designed to scale and perform reliably in enterprise as well as off-premise deployments. When deployed using the VMware vSphere platform one can design a highly reliable and scalable messaging and collaboration environment that can take advantage of vSphere's benefits of DRS, vMotion, storage vMotion and the ability to simplify management and availability. For more information on VMware vSphere see http://www.vmware.com/solutions/datacenter/
Get more information by registering for the Webinar on April 27th at 10:00 am PST to have NetApp, VMware and Zimbra experts further explain the details and answer any of your questions. Click here to register.
You may also download the white paper now.