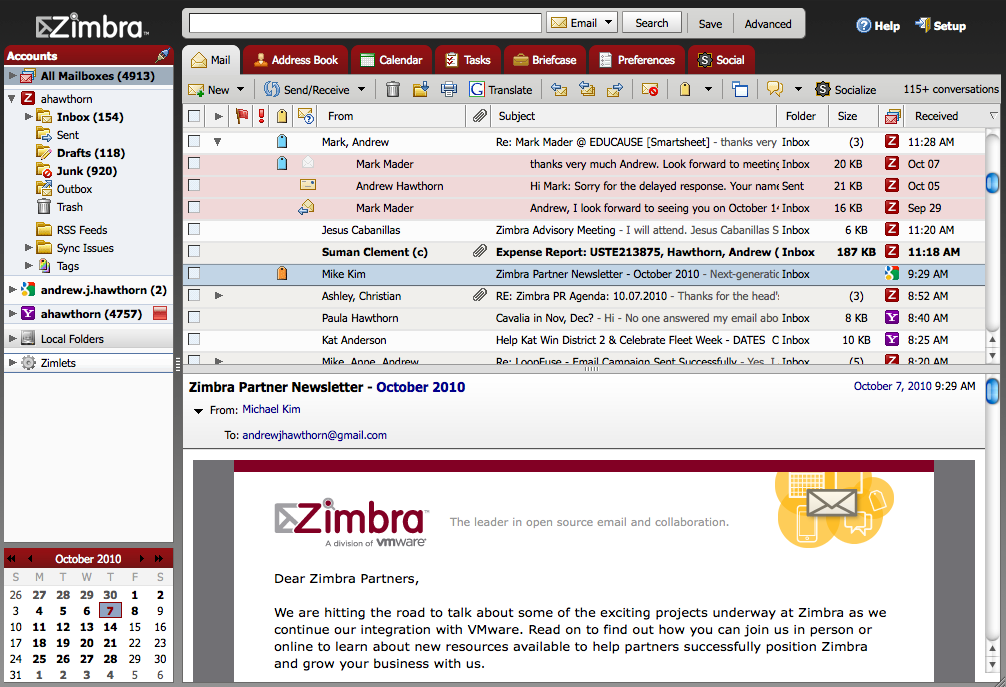 We are pleased to announce the general availability of Zimbra Desktop 2.0!  This is a major milestone for the Zimbra team and includes significant feature and performance upgrades.  The difference between Desktop 1.0 and 2.0 is enormous thanks to the millions of downloads, thousands of forum posts, and hundreds of bugs posted by Zimbra customers and community members.
As most readers of this blog know, Zimbra Desktop is a completely unique client.  It's the only free, cross-platform tool allowing you to meld your worlds on or offline – storing and syncing your email, calendar, contacts, files and documents in the cloud, yet having them locally accessible when on the road.  And now, in Zimbra Desktop 2.0 we have also added management of your Facebook and Twitter accounts.
Of course, Zimbra Desktop is also a valuable complement to the Zimbra Web Client and Zimbra Mobile because it provides organizations the exact same user experience on or offline, thus resulting in no productivity loss as users switch between applications.
Zimbra Desktop 2.0 builds on that success with significant advancements for End Users…
In addition to the robust list of features already supported, we've added read-receipts, email filtering, tabbed compose, mandatory spell check, three-pane reading view, calendar fish-eye view, and shared access to email folders, calendars, address book and briefcase.
Desktop already simplifies our lives by aggregating multiple email accounts (Zimbra, Yahoo! Mail, Gmail, AOL,  Hotmail, etc.). Now it adds the ability to aggregate Social accounts (Facebook, Twitter, Digg, etc.) into the same single user interface.  This is the first and only online/offline Enterprise-grade client that offers aggregation of multiple accounts for email, calendar, contacts and social. It is the true inbox for the way we work today.
Desktop's integrated support for the Zimlet Gallery means users have one-click access to 100+ productivity tools: Meebo, Google Translator, sticky notes, email reminders, email templates and many more.
… and for Administrators: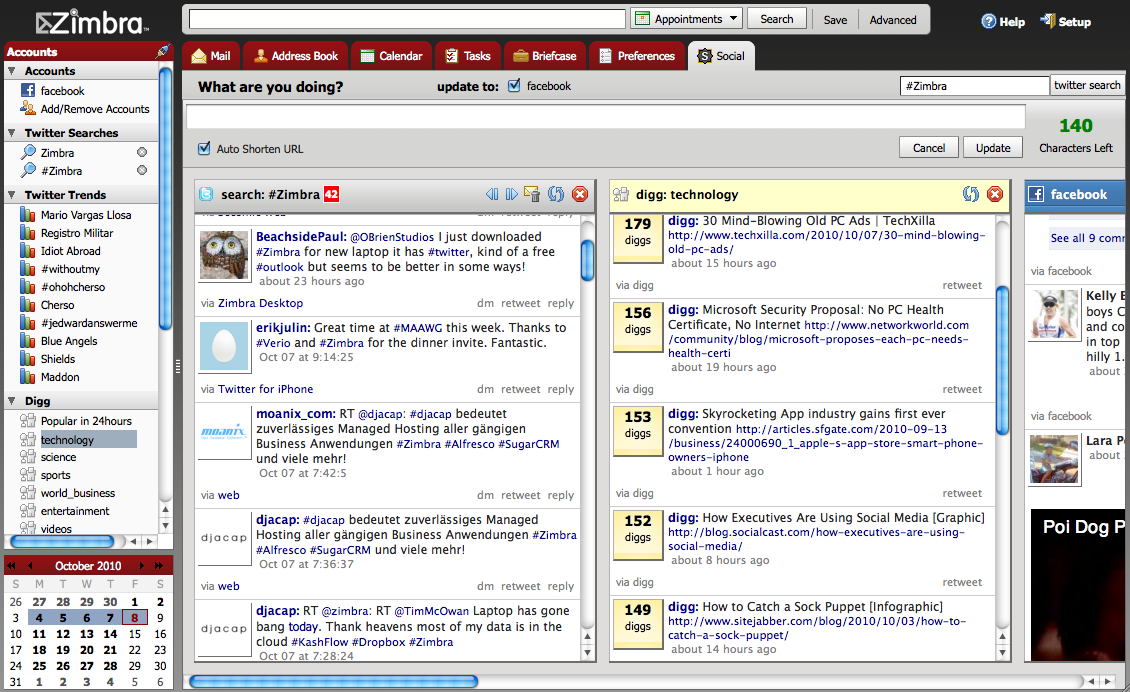 Desktop 2.0 lowers help desk and IT costs by deploying the same application on Linux, Mac and Windows and by having a consistent user experience across web client, mobile client, and desktop client.
Desktop 2.0 promotes easier back-up and restore, given all of the data and settings are backed-up in the cloud.
Nearly limitless extensions and personalization without IT headaches through the one-click Zimlet Gallery integration.
Given the high download rates of Zimbra Desktop 2.0 beta and release candidates, we assume many Zimbra Desktop 1.0 users have already upgraded.  However, if you haven't already installed Zimbra Desktop 2.0, existing 1.0 users should note that these significant changes have resulted in changes to the underlying database schema and installation procedures. Translation: Zimbra Desktop 2.0 will be a fresh install on your computer and trigger a re-sync – be sure to read the upgrade notes.
Again, many thanks to the community for its continued support of Desktop. See Zimbra Desktop for more details or to download Zimbra Desktop today!