At Zimbra we have been very focused on measuring everything about our products' adoption, usage and website in order to make improvements for our community and customers. We freely admit to having a burgeoning stats addiction, and though not everyone whoops it up when we barrel through the cubes shouting about the latest Yahoo! Zimbra Desktop download numbers, we think most folks will appreciate this one:
Zimbra paid mailboxes – 41 million and counting.
Crossing the 40 million mark is a big milestone and the credit lies with the growing Zimbra Community (more than 20,000 members strong) and our customers who have helped spread the word.  And our 40M paid mailboxes doesn't even include Zimbra's millions of open source users.
We are seeing growth in all of our products: Zimbra Collaboration Suite, Zimbra Hosted and Yahoo! Zimbra Desktop and demand for next-gen, open source solutions is strong even in this tough climate.
The primary driver in our rapid mailbox growth is our worldwide partner network. This partner network includes consumer service providers, business hosting providers, VARs and system integrators. Zimbra now has more than 675 Zimbra partners who bring their expertise and focus to the 14 industries, as well as government and education institutions, we serve. Zimbra's partner network now includes Comcast, Eircom, HP, Frontier, Homestead, Brinkster, Red Hat and more, and these partners and others have expanded the Zimbra customer base to more than 70 countries worldwide.
The graph below shows Zimbra's paid mailbox growth from when we began sales in 2006 to present.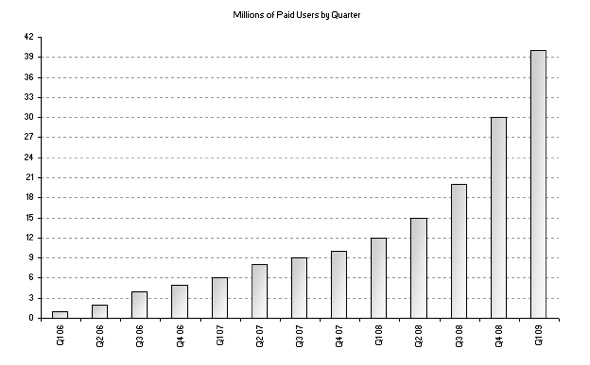 In addition to strong overall mailbox momentum, we are encouraged by the growth of our customer base outside of North America. Today the majority of our new prospects (68%) are coming from Latin America, Asia and EMEA (Europe, Middle East, Africa). It is clear evidence of the power of a global open source community and the impact of new mandates for open source software. Below is a chart of Zimbra paying customers by region; all-in-all more than 60,000 organizations are using Zimbra.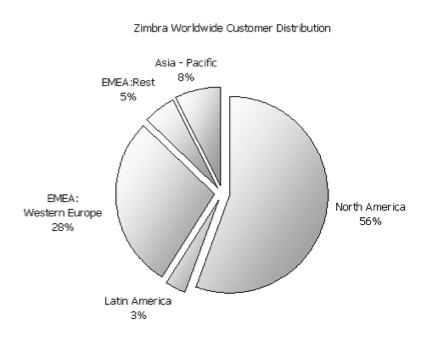 Before heading back to the math grindstone, we want to share one other fun data nuggets: Zimbra Desktop is just shy of two million downloads (we're estimating we'll get there in a week). 
Thanks again to all Zimbra Desktop users for your support and feedback – we wouldn't be where we are today without you; stay tuned for Desktop GA right around the corner!