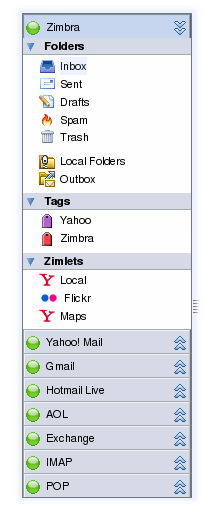 There have been alphas and betas. We took all the benefits of a rich AJAX web-client into the offline application world (including fast search, platform independence, and mash-ups, in addition to drag-n-drop; for both the client navigation and in uploading of files from your desktop). People have told us we started a revolution in local access to mail, calendar, tasks, documents, and briefcase items when we introduced full sync with Zimbra accounts. I'm inclined to agree – but we also knew it was about freedom of your data, regardless of where it might be stored, so we expanded Zimbra Desktop to work with more providers than a Swiss Army knife has tools.
Zimbra's been in the offline world for 2 years, and we've got an impressive roadmap of desktop features lined up that's about to rock the collaboration world weather you take it on a plane, train, rv, or boat. Release candidate 1 is a feature complete product for the planned 1.0 general availability release, and includes many bug fixes since the packed beta 5. This version is also the first release that is available to be included in our support program for our network edition customers; those interested should contact their sales rep to participate.
Our desktop releases have been churned out roughly every three months, and many are just so excited for new updates that we decided to implement an early-adopters upgrade program as well. Your given the option to participate in the testing network by checking a box during the last screen of installation: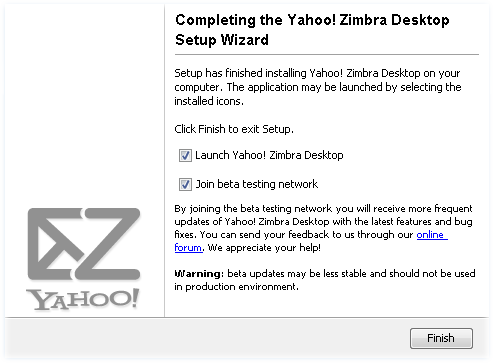 One click, and your desktop is now on the fast track to receive our same internal upgrade pushes. They aren't true "nighties" per-say, but we hope to release updates in the week to month range after a little quality assurance.
Download it via auto-update, build from source, or for those just discovering Zimbra Desktop for the first time: You can grab the installer here for Linux, Windows, or Mac.
---
Have an idea for extending Zimbra? We're interested in hearing your thoughts on it below or over in the Community Forums.