Every year, the Macworld Expo brings together a loyal and diverse base of Mac users which also happens to make up a core set of Zimbra's customers. Once again this year you'll find us at the show. We're setting up house with 01.com (one of our many partners) at booth 4328 – we hope you can stop by and find out how Zimbra works seamlessly with Apple products at home or on the go. And if you can't make it, take a look at our 2008 recap of Mac-related news, or visit http://www.zimbra.com/apple/ for more information.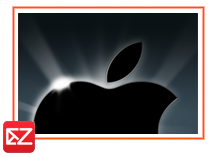 December
Inquisitor, a search technology that auto-completes queries and delivers results right in the Web browser, was acquired by Yahoo! and launched for Safari 3 in May, and then for Firefox 2 and 3, and Internet Explorer 7 and 8 in October. Last month, in the Desktop Beta 5 release, we launched built-in Inquisitor support for the search bar – bringing Zimbra users access to Inquisitor's fast, smart and flexible search experience.
October
In October, Zimbra and Yahoo! hosted the CalConnect Roundtable, a symposium on the interoperable exchange of calendaring and scheduling information between dissimilar programs, platforms, and technologies, including iCalendar (iCal) and CalDAV(3) standards. The meeting allowed us to collaborate with some big corporations including Apple, Google, Kerio, Microsoft and Sun, as well as some major universities to bring the latest CalDAV & iCalendar specs your way.
July
We love poker at Zimbra so with July we get to watch the world series and we get to play at our very own poker tables.  By mid-summer, Zimbra Mobile for iPhone arrived – bringing over-the-air synchronization to the native email, address book and calendar apps on any iPhone with 2.0 software and ZCS Network Edition with Zimbra Mobile enabled – just in time for loading up on the new iPhone 3G.
June
We're always trying to find new ways to make the user experience faster, and this summer we put all the latest Web browsers to the test. We found Safari 3.3.1 to be the winner of the browser wars – an ideal companion to the Zimbra Web Client for the fastest collaboration experience yet.
February
In February, we launched a great improvement to Zimbra Collaboration Suite with our 5.0 release. In Zimbra's traditionally inclusive style, we launched with support for Mac OS and for any mobile web browser, including the Apple iPhone. ZCS 5.0 also included the beta release of Zimbra Desktop, which gave all PC, Mac, and Linux machines the same rich Zimbra experience online and offline.
January
At MacWorld last year, we gave our Apple customers more to cheer about as we embraced support for Apple products and technologies, including Safari 3 and CalDAV for Mac OS X Leopard.
We look forward to 2009 and all the really cool stuff we are going to (very soon) launch.