HostBill is a comprehensive and versatile billing and automation software designed for businesses in the web hosting, domain registration, and online services industries. It provides a centralized platform to manage various aspects of these businesses, such as customer management, invoicing, provisioning, support ticketing, and more. HostBill aims to streamline operations and enhance customer experiences by offering a wide range of features and integrations. Some key aspects of HostBill include:
Billing and Invoicing: HostBill offers automated billing and invoicing solutions that allow businesses to generate invoices, manage billing cycles, and process payments. It supports multiple payment gateways and offers customizable invoicing templates.
Customer Management: The platform allows businesses to manage customer information, accounts, and communication preferences. It provides tools to track customer interactions and history, improving customer relationship management.
Product and Service Provisioning: HostBill enables the creation and management of various products and services, such as web hosting plans, domain registrations, VPS packages, and more. It automates provisioning processes to ensure timely delivery of services to customers.
Automation and Integrations: HostBill integrates with numerous third-party applications, such as domain registrars, control panels, and help desk systems. This allows businesses to automate various tasks and processes, reducing manual intervention and potential errors.
Support Ticketing: The software includes a support ticketing system to help businesses manage customer inquiries and support requests. It centralizes communication and facilitates efficient issue resolution.
Client Portal: HostBill provides a customizable client portal that allows customers to access their accounts, view invoices, make payments, and manage their services. This enhances self-service capabilities and improves customer satisfaction.
Reporting and Analytics: The platform offers reporting and analytics features that provide insights into business performance, revenue trends, and customer behavior. These insights can help businesses make informed decisions and optimize their strategies.
White Labeling: HostBill allows businesses to brand the platform's interface with their own logos and colors, providing a consistent and personalized experience for customers.
Multi-Currency and Multi-Language Support: HostBill is designed to serve businesses operating in global markets by providing support for multiple currencies and languages.
Security and Automation: The software emphasizes security by offering features like two-factor authentication and role-based access control. Additionally, it automates various administrative tasks, freeing up time for more strategic activities.
HostBill is designed to cater to a wide range of businesses, from small hosting providers to larger enterprises. Its versatility and extensive feature set make it a valuable tool for managing and growing web hosting, domain registration, and online service businesses.
Zimbra module for HostBill is aimed at automated provisioning and management of Zimbra accounts. Flexible billing options allow you to charge for number of domains, aliases, distribution lists and even class of service usage or mailbox additional space. The module gives your clients access to easily manage their mailboxes and track usage directly from feature-rich client area. What's important, it's your choice which client features are enabled – you can control client area functions access and appearance in your admin panel!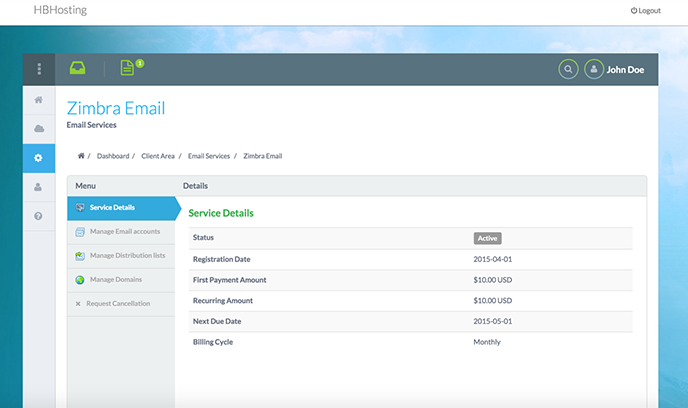 More information on the Zimbra HostBill module can be found at: https://hostbillapp.com/products-services/zimbra-email