Zimbra Desktop gives you access to all of your email accounts in one place, whether you are online or offline! What is Zimbra Desktop? It is a free and open source email client application available for Windows, Mac and Linux.
Introducing Zimbra Desktop 7.3.0.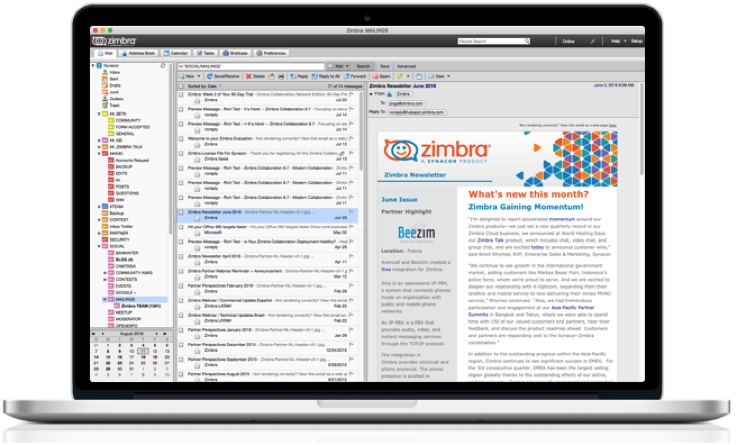 What's new in Zimbra Desktop 7.3.0
Zimbra Desktop 7.3.0 replaces the Prism framework with Nw.js for all platforms as a main feature, but there's more!
What's New

106372
Replace Prism framework with Nw.js for all platforms
96507
New auto-update framework for Windows and Mac OS X
65456
Support 64-bit ZD builds for linux
105422
Spell check while composing new email not working in 7.3
104738
Support for Indonesian Language
105047
Windows: Make Zimbra Desktop default email application (mailto protocol)
Fixed issues in Zimbra Desktop 7.3.0
Zimbra Desktop 7.3.0 includes a long list of fixed issues which you can find here. Here are the highlights:
Fixed Issues

100636
Installation of ZD in silent mode fails on windows OS (Java not found error)
106135
Date format for "Sync messages to fixed date" on add new account page is incorrect and causes problem
106989
Need administrator privileges for running auto update on Zimbra Desktop(Windows 7, Windows 10)
107007
Windows: zdesktop.exe(jetty) process does not get killed immediately when ZD is closed from system tray
106001
ZD UI process(NW) crashes on accessing a shared briefcase folder
106241
Update registry keys in Windows OS when "mailto" handler is set/unset in ZD.
106478
ZD installation failing with openjdk version "1.8.0_91"
64657
Unable to paste an image inline
106992
When Java is not found by ZD installer, it should clarify that "Oracle" Java was not found
107154
Show original option is not working for calendar appointment
96770
Remove prism related code while changing locale
99763
Thai locale not displaying correctly (only on Mac)
106985
Zimbra Desktop on Mac OS X cannot read Thai language
106100
Support older themes in Zimbra Desktop
46088
The 'From' column is named 'step 3.'
104571
INTL – Note for standard message on shared folders not showing when language is set to other than English
38619
Need mechanism to turn off or remind later for auto updates in ZDC
99919
Advanced Date search do not work for Thai, Korea, Chinese, Hongkong, Turkey

HTML Rendering bugs

79801
Email message display is truncated, but reply shows full content
100397
image/page not displayed correctly in attachment message
101880
Unable to view the complete email
93616
Message chopped off at bottom so can't read it properly
104444
HTML rendering issues
107277
An email with an image content missing in ZD.
99512
Responsive HTML email fails to render
Zimbra Desktop is now Linux 64-bit compatible
As we mentioned in the What's New section, one of the most requested features from our Zimbra Desktop customers was to natively support Linux in 64-bits. With the 7.3.0 version, we are thrilled to announce you can now install Zimbra Desktop in any Linux based in 64-bit.
Please follow the steps from our wiki to install Zimbra Desktop in Linux 64-bits:
As usual, your feedback is really important for us, so please don't hesitate to let us know here, on our dedicated Forum about Zimbra Desktop what do you think, improvements, bugs, etc.