In this Partner Spotlight, we are delighted to present our well known Gold Partner, ilger.com and introduce their new zimlet ZPGP. The ZPGP zimlet ensures data privacy and security for users of the Zimbra Web Client.
Data privacy and security are two crucial topics for our times. Protecting and securing our communications and sensitive data is of the utmost importance. End-to-end encryption provides users full protection of their data, even when the email provider is facing a cyber-attack.
End-to-end encryption (AKA etee) allows its users to encrypt entire packages, thus ensuring that only the email sender and its receiver will be able to decrypt the information. Let's put it this way: The cryptographic keys are already available on both the sender's and receiver's device, so the email provider just plays the "postman" role.
Using two different cryptographic keys (one public and one private) is essential. To do so, software must be installed on the device, and it generates the key pairs. The first key (private) will be stored on the user's device, allowing the decryption of the packages during the exchange. The second key (public) will be shared with the other user, making the data encryption possible.
ZPGP is a state of the art zimlet developed specifically for Zimbra that allows easy integration of end-to-end encryption in email. It is based on OpenPGP, an Internet standard for interoperability of secure messages. Using asymmetric cryptography, it relies on a pair of keys: one public and one private. With ZPGP, the creation of these keys is done in a few easy steps. The user enters a new password that is used to encrypt the private key. The password has a dual function, it generates the public key and encrypts the private one at the same time.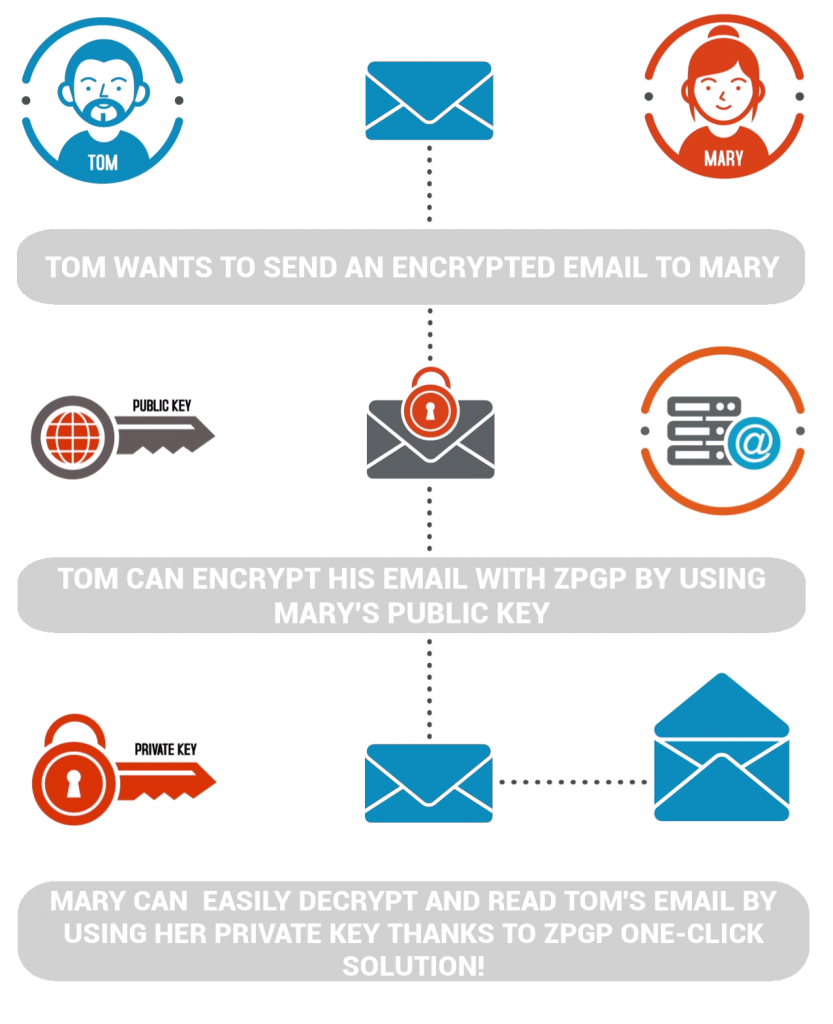 With ZPGP, public keys can be shared between all Zimbra users. The sender knows the receiver's public key and vice versa. Private keys, however, are personal and accessible only to the individual user. When the user sends an encrypted email, ZPGP encrypts the message using the public key and sends the email to the recipient. Thanks to ZPGP technology, when the message arrives, the receivers, with their own private key, can decrypt the email and attachments with a single click! This prevents any form of interception, keeping messages encrypted and away from prying eyes.
Let the world know how discreet you are!
Safe communications with non-ZPGP users available!
Safely talk to non-ZPGP users via symmetric encryption. How, you say? Well, here it is. Send an encrypted email to a non-ZPGP user. This user will receive a link to the encrypted email, which can be opened directly in a browser. All the user needs is a password that you must share with them.
ZPGP is available for purchase with the "Subscription" formula. The subscription is paid through an annual fee that includes support and all the minor and major release updates.
Please contact Ilger.com to purchase ZPGP (www.ilger.com – info@ilger.com)