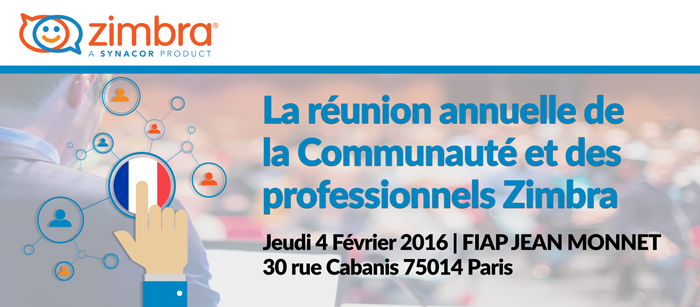 Zimbra invites you to our 7th Edition of Zimbra Forum France, organized by Zimbra for our Community and Sponsored by our network of local Partners and Resellers.
This event will be held February 4, 2016, at the FIAP Jean Monnet, 30 Rue Cabanis, 75014 Paris, France.

The event have a limited reception capacity, we invite you to book your tickets and your dates now!
Agenda at Zimbra Forum France:
Discover the latest Zimbra features with a presentation of our new Zimbra Collaboration 8.7 and Product Roadmap
Attend to different technical and business workshops for our users and partners, led by the Zimbra team but also by our Sponsors and Community Members
Meet our French team, and our Executive
Is the perfect place to do networking, and provide feedback about Zimbra with our Community, team and Partners