We had a Mac oriented year-in-review, but some have asked "what about those of use who aren't apple fanboys?" So as the holidays become a distant memory of nothing more than food, friends, and family; thought we'd take a 2nd moment to look back at community contributions and other happenings of 2008.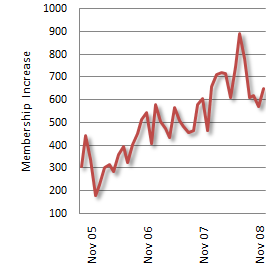 What seems like only a little while ago, we posted on our 10,000th forum member, and just two months thereafter we hit 11,000. We promise not to post stats every few thousand registrations, but these are just so staggering:
Sept 2005: We started the forums.
Nov 2006: 5k Members
Sept 2007: 10K Members
Nov 2007: 11K Members
Dec 2008: 20K Members
In simple math, that's almost double (x1.7) our growth rate over the past year. In that same time period the amount of posts and threads have also skyrocketed.
The fact that so many active members stick around to contribute and help their brethren on topics ranging from administration to development plus everything in-between, continues to amaze, impress, and makes us proud. Zimbra is clearly about something more – giving back, enhancing, and shaping the future of communication.
Seems more of you need to subscribe to the blog though (visits vs subscriptions) but I digress – hint: There's a box on the right ;)
As our organization turns five, and our community three we just wanted to echo one more giant thank you. Your feedback and ideas are what keeps us pushing the limits of collaboration. We couldn't do it without you.
Often hitting over 600 new registrations a month, and pushing close to 120,000 posts – the forums are so busy we thought we'd give you a little update, just in-case you haven't had the opportunity to take it all in!
Here's a bit of the highlights from the past year:

Going Mobile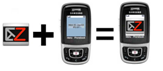 Some excellent contributors have stepped up to make Open Source mobile synchronization for contacts, calendaring, and tasks a reality.

It's may seem like a lot of work, and not for the faint of heart, but you can checkout the Funambol thread or find more info here. (Special thanks to Hillman, Wolfroma & Costa-101)
Want just open source push mail? You can find directions over in this wiki.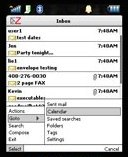 We've made our Java based ZimbraME client open source. Get the code from our public perforce cache, then modify & combile it for your needs. It will build and run on just about any phone that runs J2ME. You can also download one of our pre-compiled releases – including one for BlackBerry devices.
Too daring for your taste? The two mobile web-client cousins (main & mainx) are also available in complete open source and work in just about every browser. They provide excellent JSP tag lib examples for making your own portals or quick optimized client – they have all sorts of uses. (We promise more info on creating these home tab portals is coming shortly.)

Community Builds
We've added an amazing team of OpenSource Buildmasters that put out community builds for Ubuntu 8 32/64-bit (now an official release), Solaris 9 & 10, Mac OS X 10.4 PPC, OpenSUSE, and even FreeBSD – yes you didn't misread that list.






(Dijichi2, Osmedts, and many more have done an excellent job!)

Mail-Clients





There's always those that love their favorite thick-client so much we'd have to pry it from their cold dead hands. For Thunderbird fans Zindus has taken ZCS<>Thunderbird sync for personal AND shared contacts to a whole new level. (Thank you lmj!)

Zimbra Desktop builds have been packed with new content that you're just going to have to read all the blog entries on Beta 5, Beta 4 & Beta 3. It's not just about ZCS Sync anymore, ZD is here to help you connect with multiple major providers. We're in the process of joining multiple repositories to bring it to the masses easier. Plus it's a perfect testbed for quickly developing new themes or Zimlets without installing an entire test server. There's even a community developed Solaris port by SivaSSKumar available here.




Tools, Extensions, & Zimlets
– Pbruna built ZimbraNotify, a Linux Toaster equivalent.
– Samba & Posix extensions now come pre-bundled.
– Deugenin developed an extension for global email footers!
Zimlets Galore: From the self backup ideas of StarXpert & Fbackup, to user-managed resource & location control from the ZWC, plus a whole slew of excellent collaboration tools – you can find a whole lot more Zimlets in the gallery. (And "Zimlet Month" is coming up fast.)

Other Cool Stuff
The new DnD Zimlet & FF extension allows you to to simply drag attachments from your desktop into you web-client's mail compose window or briefcase. We plan to make this cross-browser/multi-platform using Yahoo's BrowserPlus in the future, and in ZCS 6.0 we can alert you to new mail on your desktop – or even read your mails back to you out loud.
We've honed our CalDAV & free-busy interop calendaring with participation in multiple CalConnect roundtables.
The developer section of the forums is abound with stuff from an AJAX ticker on the login page, to perl access modules, and not one but two a interesting methods for individual and global read receipts.
Integrate Zimbra into your favorite browser in the form of mail/appointment notices, a toolbar, or make your daily ZCS interactions more useful with things like FF3's new protocol handlers. Plus WebDav has so many uses that people are only starting to discover.
There's also 1, 2, 3 reasons you have no excuse to not be backing up – more here, and we made it so simple that even users can do it. And some recent HA ideas if you're not one for DRBD or some other favorites.

Forum Enhancements
The forum got a theme revamp, portable edition, and revised layouts.
Some new areas include:
* Specific product sections like Zimbra Desktop, Connector for Blackberry, and the J2ME phone client.
* A section dubbed 'Camp Zimbra' for those who've completed official training and become 'Alumni'.


* Zimbra in Education gives our EDU professionals a opportunity to unite.
* An /etc lounge for general conversation.
There's now one click access to Wiki Sandboxes – make yourself a reference guide or use it to troubleshoot.
And last but not least, we've increased the size of our awesome crew of volunteer moderators and regulars who give up their time to answer your admin and developer related questions everyday.
Thanks to all who visit the forums for making our community first rate!
---
If you haven't kept up with Zimbra upgrades in a while we're currently about to release ZCS 5.0.12 with more features than we could mention in a blog post – you can find a quick list via the product management portal. And we promise a few ZCS 6.0 teasers soon.