Just a bit on new stuff that's graced the Zimlet scene lately:
Xythos


Drag and drop your emails (including entire conversations with meta-data or just the attachments) from Zimbra into an Xythos folder of your choosing. Create new emails and link to documents stored on an Xythos content management server for internal accounts – you can even configure expiring tickets to share material with external users.

See it in action here, then contact info@xythos.com if you'd like to try it out.
Dimdim
Join a Dimdim web conference without leaving your inbox; start a meeting right from an email with a single click, drag contacts from your address book, or even drop any appointments in your calendar onto the Zimlet and instantly schedule a Dimdim session.



Dimdim is an awesome open source meeting platform that lets you share your presentations, documents, whiteboards, or desktop (currently Win & Mac with Linux on the roadmap) – and gets you connected via chat, VoIP, or webcam. Run your own server, use their hosted options, or create a free account that lets you connect with up to twenty people at once – attendees don't even need to be registered.

Grab the Zimet here.

Alfresco
The first content management Zimlet by Starxpert let you save emails, conversations with attachments, or folders onto an Alfresco space.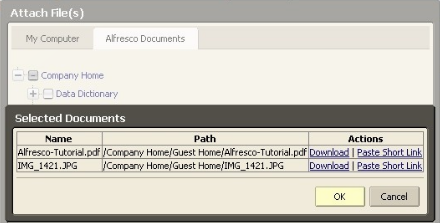 A newly developed Zimlet from the folks at Alfresco not only helps you save content to ECM server, but also provides the ability to select multiple documents and attach them as links to outgoing emails; several widgets give you ease-of-use in Alfresco space selection and repository navigation. Visit the gallery page to download it.

Get your intent across.
With the new Babelfish Translator & Dictionary Zimlets: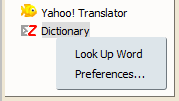 Check them out in the source, they're coming to your server's "zimlets-extra" folder shortly – you can even use them in Zimbra Desktop.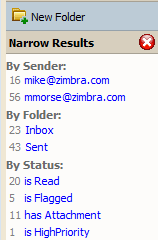 Auto-Complete & Refined Search



Available in the main branch of perforce are com_zimbra_searchauto & searchrefine. While an updated Yahoo! search Zimlet displays results in a ZmApp tab instead of requiring you to open another browser window.