Have you taken advantage of your favorite website's RSS feed? If so, then you're gonna want to check out Zimbra Collaboration Suite's built in RSS feed reader.
---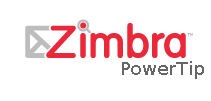 User's PowerTip #2: May 15,

2007
Zimbra Forums – Zimbra wiki –
---
Introduction
---
RSS (Really Simple Syndication) feeds are a way for people to get up-to-date information on just about any subject you want. This allows you to get information from a service/website without ever actually visiting the site. The information comes to you from the feed.
In order to read these feeds, you need an RSS Reader, otherwise, the feed can be unreadable to the general public. The reader helps take the feed and and format it with pictures, audio, or video (depending on the feed).
Newer Operating Systems include these feeds. Microsoft Windows Vista users can get a cool reader named "The Panel". Mac OS X 10.0.4+ users can get a feed reader for Dashboard from the apple.com website.
However, many users user several different computers per day. For example, I have one at home, one at work, and a laptop. Zimbra Collaboration Suite includes an RSS Feed Reader that will display each feed item as if it were an e-mail in a folder.
---
Adding A Feed
---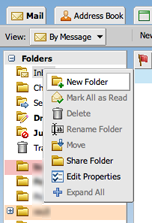 Many different sites offer RSS Feeds. A good place to get feeds is http://www.rssfeeds.com/ They offer a directory of feeds that you can add to Zimbra.
Adding a feed to Zimbra is as easy as creating a folder. Just right click on the parent item of where you want the feed to be displayed and click "New Folder".
If you want the feed folder to be displayed inside of the "Inbox" folder, then right click on "Inbox". If you want it to be a "Top Level" folder (which means that it is along side the inbox), then right click on "Folders" located on the left hand side.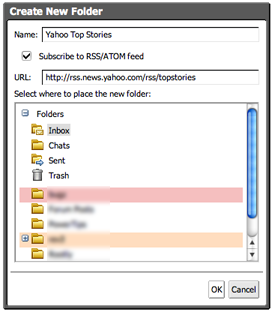 When you right click and choose "New Folder" you will recieve a dialog box asking you some information about the folder you wish to add.
Because we're adding an RSS Feed, we've checked the "Subscribe to RSS/ATOM feed" box. When you do this, another field will appear asking you for the URL of the feed.
Give the folder a name. In this case
we've subscribed to the Yahoo Top Stories Feed, and we've located the URL for the feed and pasted it into the URL field.
At this point, you are given another change to indicate where you want to place the feed folder. Remember that the folder you select will become the parent of the feed folder.
Click "OK" when finished.
---
Conclusion
---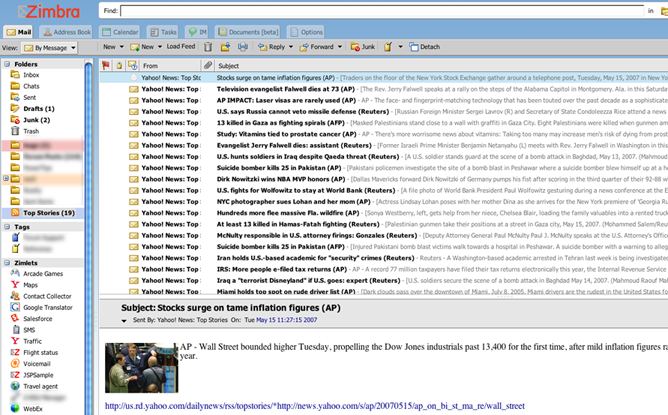 You can see from the above image that I have a "Top Stories" Folder. When I click on it, I have all of the feed items, each with it's own line. You also can use Zimbra's advanced searching capability to search RSS feed. Take a look at our PowerTip on Searching: http://www.zimbra.com/blog/archives/2007/05/the_power_of_search_part_1_the_search_bar_1.html