Toolware Pty has written a very cool Thunderbird Extension for Zimbra called Zindus. It is open-source software and runs on all Thunderbird platforms including Windows, Mac OSX and Linux.

Thunderbird users take note! There's an awesome extension that syncs your contacts between Zimbra and Thunderbird. It syncs everything from Address Books to your GAL (Global Address List).
Although not an officially supported extension, some users in our Forums have already adopted this new extension. Zindus is Open Source (which is why I'm blogging about it).
I've used the extension, and had no trouble syncing all my contacts from ZCS 5.0 to Thunderbird version 2.0.0.9 (20071031). Zindus works with ZCS 3.x-5.0 Open Source and Network Editions
If you use Thunderbird, and want your contacts, just go over to the Zindus site, and download the extension.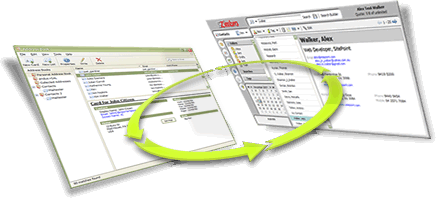 Site: http://www.zindus.com/
PS- We don't make this extension. We just think it's cool!